Fitted Wardrobes Kent
Fitted Wardrobes and Fitted Bedrooms.
Did you know that we offer our fitted wardrobe and bedroom service in Kent? That's right, our team can fit the bedroom storage of your dreams across the Kent area.
Fitted Wardrobes and Fitted Bedrooms in Kent
Kent is a county located in south east England. Kent has a huge history behind it, from its close connections to Margate, Whitstable, and other historic English locations; it is a lovely place to visit. Also known as The Garden of England, Kent is home to Dover Castle, Canterbury Cathedral, the White Cliffs of Dover, and much more! With over 65 million visitors every year, its tourist economy is the source of some fantastic local bars and restaurants. These are just some of the reasons why we love working in Kent and decided to offer our fitted wardrobe and bedroom service here. With Kent being a great area to travel to, with London being just 38 minutes away, it's an ideal area to work or live in.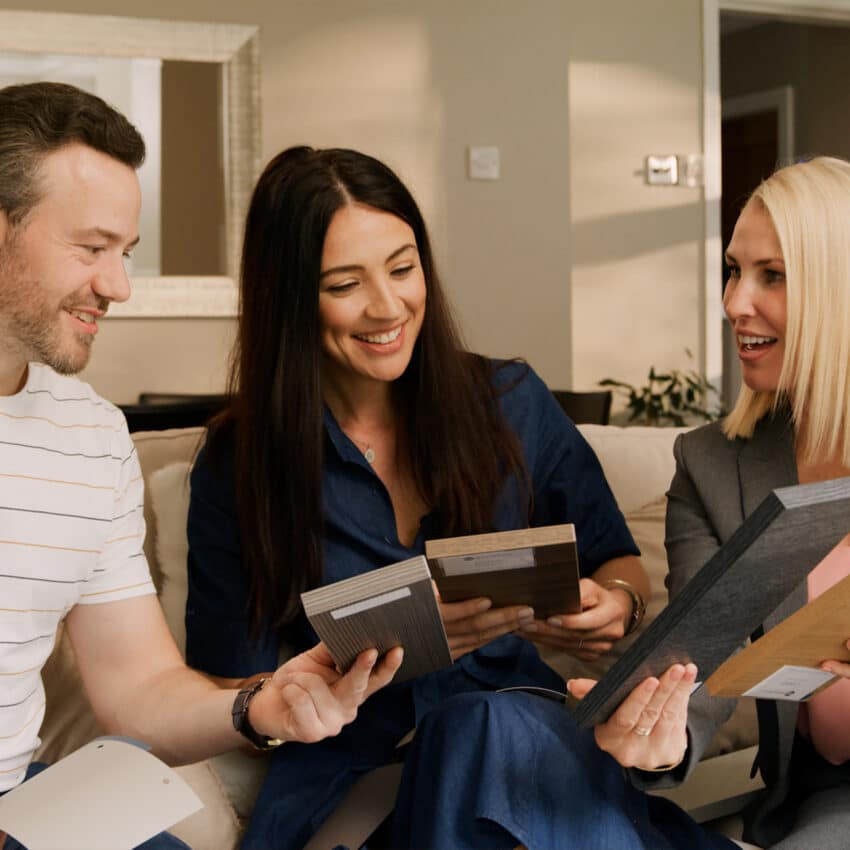 Our Kent Fitted Wardrobes Service
My Fitted Bedroom offers nothing than a top-quality service with premium products to help you create a space in your home that you adore. What we love about what we do, is our impressive collection of colours and finishes and seeing the combinations that our clients choose. A huge perk to the job is seeing our clients' reactions and how happy they are with our work; it's a rewarding feeling to know they love their new fitted wardrobes as much as we love installing them!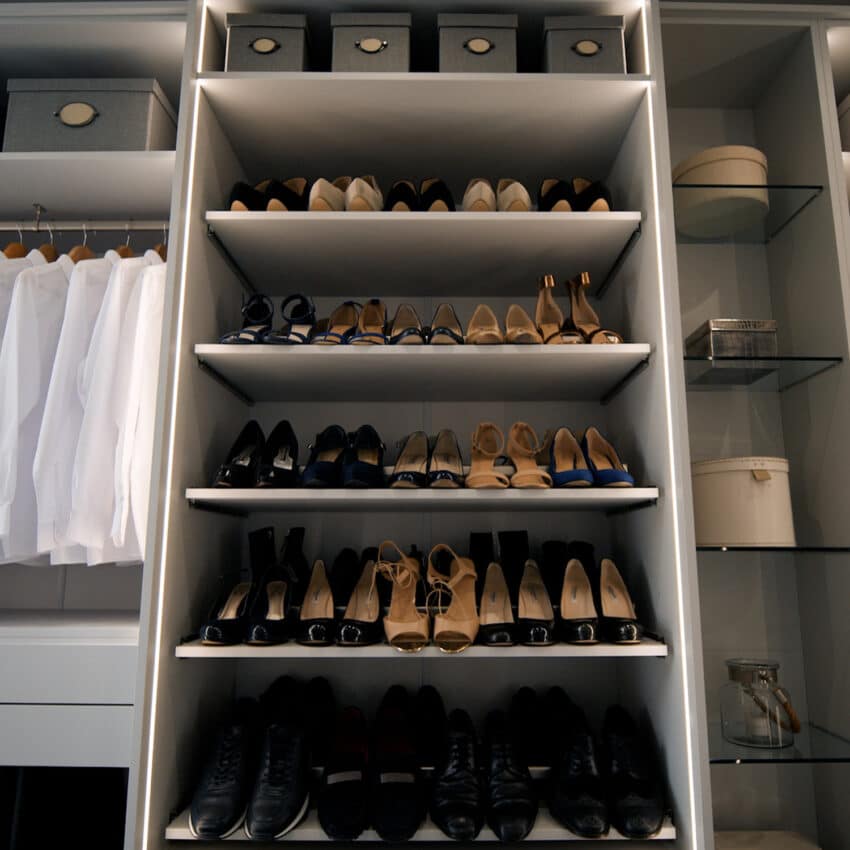 Fitted Wardrobes in Kent: What to Expect
We offer a free home design service. This is where our designer will visit you with door samples, colour swatches, and handle choices, in order to give you a good understanding of what our materials look like in person, their shades, their feels and their textures. Along with this service, we can also offer a free virtual consultation if visiting at home doesn't suit. It's a really simple process of uploading your room measurements and answering some questions; our design team will arrange a video call and we can discuss some styles to bring your vision to life!
Fitted wardrobes are becoming a popular option to have installed in the home and this is usually due to the amount of space it creates in the room, whilst looking sleek, stylish and tidy. We have a long history of industry experience so we have a great knowledge of all things bedroom fittings. If you ever have any questions, we are always more than happy to help.
For more information about our wardrobe fittings in Kent, please don't hesitate to give us a call today.
Our Kent Case Studies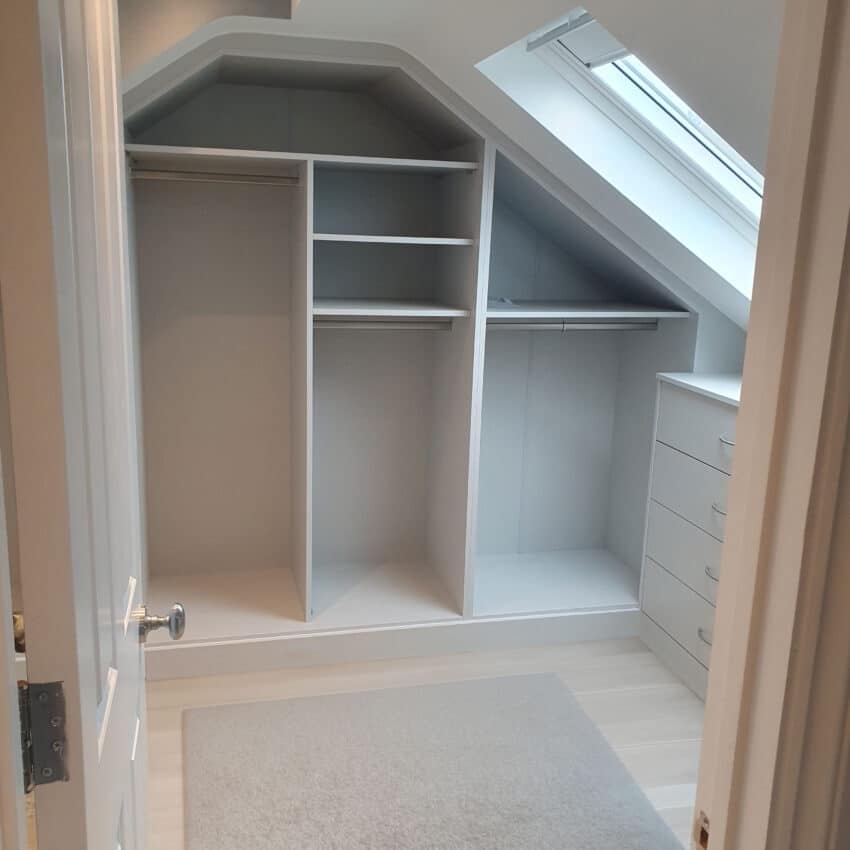 Loft Walk-In Wardrobe
When you think of fitted wardrobes, don't just think of bedrooms! A My Fitted Bedroom wardrobe is far more versatile and can create storage and space in any room of the house. This is a beautiful example of making use of previously unused space; this walk-in wardrobe has been installed in the loft space of a home in Ramsgate, Kent. We love the neutral colour this customer chose for their walk-in fitted wardrobe; Dove Grey.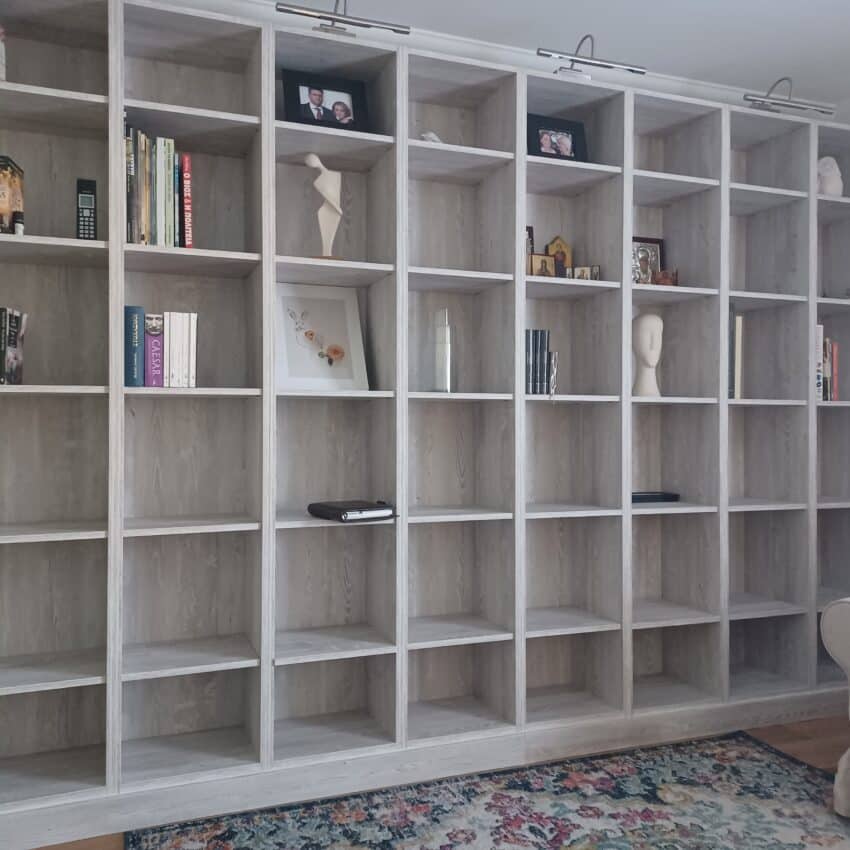 Library Style Fitted Wardrobe
Another fantastic instance of fitted wardrobes not just being limited to the bedroom! Our Adela collection has absolutely transformed this customer's room. These My Fitted Bedroom fitted wardrobes have created a library style look at this home in Sandwich, Kent. The White Oak colour chosen by the customer works perfectly and ensures the fitted wardrobe pack a punch, without being too dominating.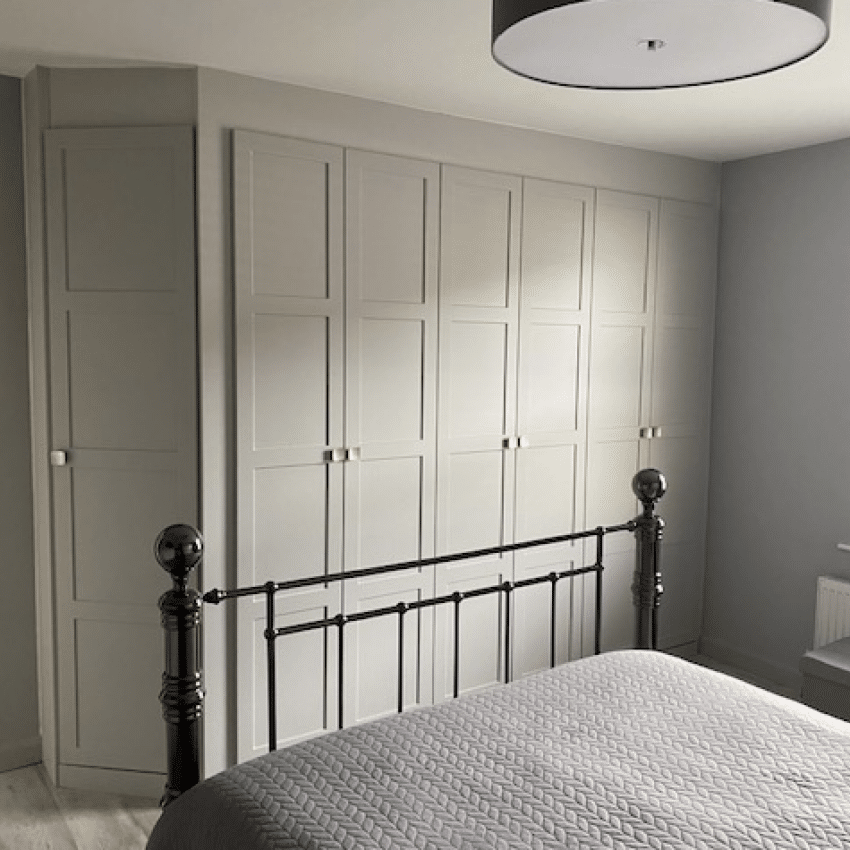 Fitted Bedroom Wardrobes
At a home in Maidstone, Kent, My Fitted Bedroom installed a traditional fitted bedroom in a modern design and style. Our Elise range is a best seller and it's easy to see why! Behind those doors is an absolute wealth of new storage space, so even on your busiest day, you can keep your bedroom looking tidy by shutting your belongings away. The Cashmere shade chosen by this fitted wardrobes customer, is definitely a favourite of ours!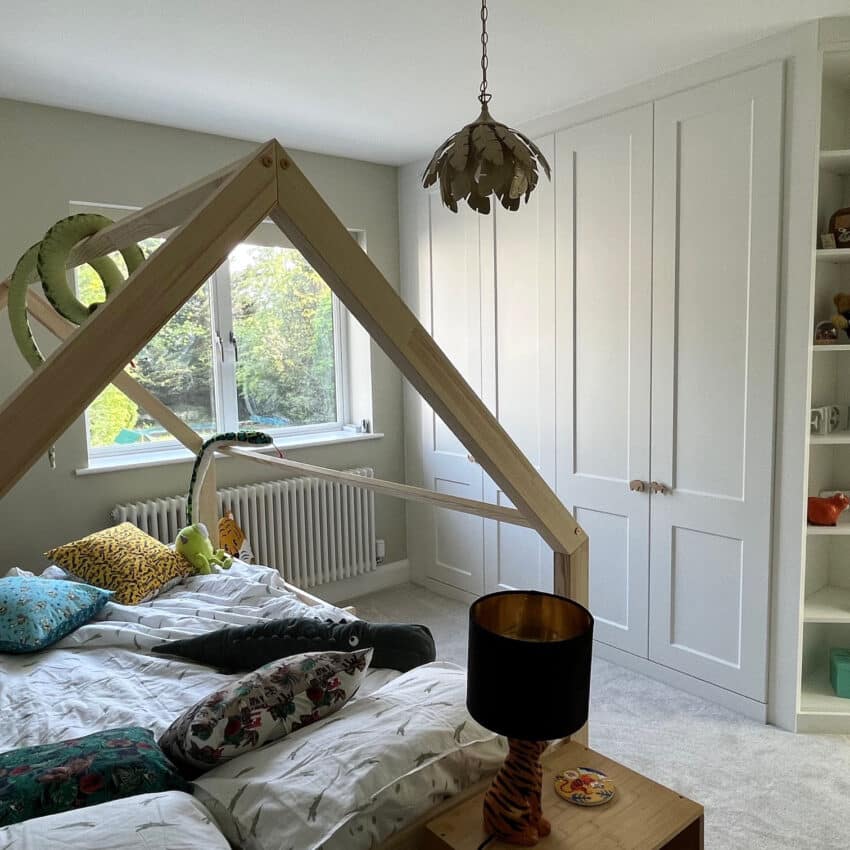 Children's Fitted Bedroom
Anyone with children will know that keeping your home tidy is a challenge! Which is exactly why this My Fitted Bedroom customer opted for fitted wardrobes in each of their children's bedrooms. Both of these fitted bedroom wardrobes are in the colour, Super Matt White on our Elle Shaker doors, which are another best seller at My Fitted Bedroom. This customer, based in Canterbury, Kent, no longer has to worry about storing their children's toys, games and clothes in a tidy manner.