A clever bedroom with a hidden secret
A clever bedroom with a hidden secret
There's something magical about finding a hidden room – and that's exactly what Kayleigh  no40_home_rennovation created with a wall of wardrobes that led to her bathroom.
The beauty of fitted bedroom furniture is that you can hide things behind the doors – and this 'secret door' idea formed the inspiration for interiors influencer Kayleigh Hilbert's beautiful bedroom makeover.
Kayleigh has been painstakingly renovating her home for the past five years, turning it into the beautiful modern and chic family home that she craved. When it was time to turn her attention to the master bedroom, Kayleigh came to us to help bring her very specific design idea to life – utilising what could have been wasted space around the ensuite doorway, whilst keeping the final look of the room slick, stylish and uncluttered.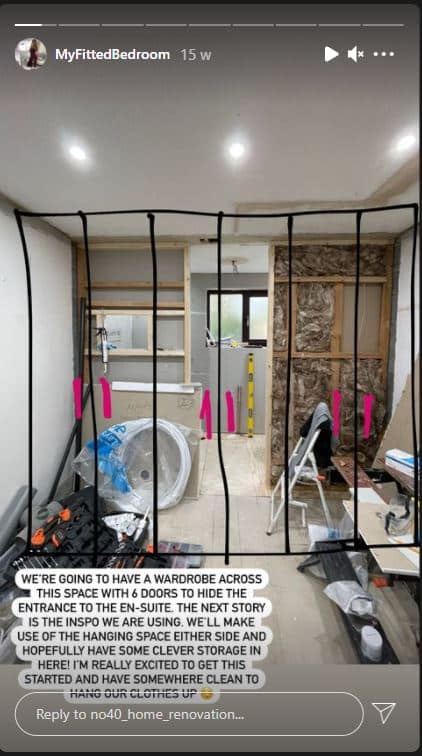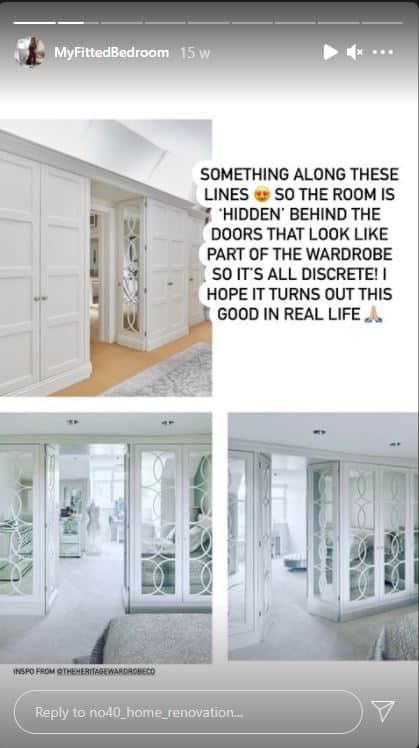 Kayleigh's vision and design inspiration
With a clear idea of the end vision for the project, Kayleigh worked closely with our designer Jason, to turn her dream into a reality, creating a clever concealed doorway to the ensuite which formed part of the fitted wardrobe design.
Keeping her bedroom slick and clutter free was a key part of Kayleigh's brief so internal storage was designed to give her plenty of hanging space (for her and her husband) and ample drawer storage. The bespoke storage combination was created to her very specific needs, meaning that when the project was complete she could be confident that there was a home for everything.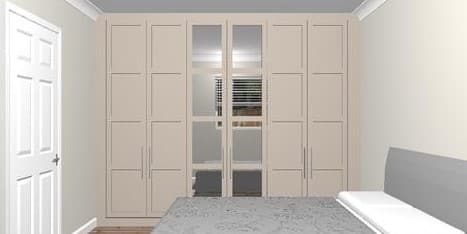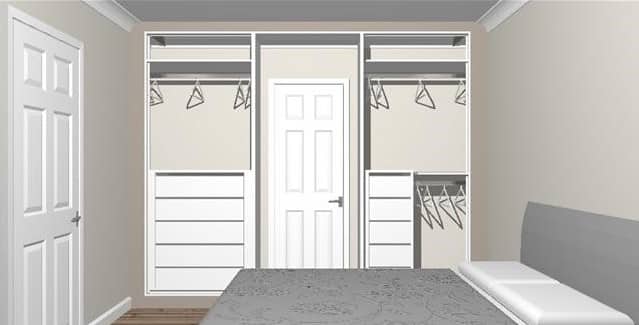 You won't believe your eyes!
The end result is truly spectacular. On first glance, the room is home to a beautiful six panel Elise shaker style wardrobe in super matte cashmere with mirrored doors at the centre. However cleverly hidden behind the mirrored doors is Kayleigh's newly renovated ensuite with beautiful chandelier hanging right at the centre of the doorway.
With the project now complete, Kayleigh's bedroom has been transformed with her trademark soft neutral colour palette, luxurious finishes and thoughtful touches to create a beautiful sanctuary and escape from busy family life.
Kayleigh said: "The one thing in my new bedroom that I'm obsessed with is our wardrobe and how it makes the room feel. The design makes a huge difference to how it was when we first moved in, it looks so sleek and when the doors are shut you wouldn't even know there's a bathroom behind it. It's a genius idea and I'm so pleased with how our vision turned out. I can't recommend My Fitted Bedroom enough – they have been brilliant and the quality is phenomenal."
You can see more about Kayleigh's stunning home renovation – you can check out her Instagram here.
If you have a difficult space that you need to work around, or a vision that you want to bring to life – book a home design visit with our team today and they will help you turn your dream into a reality – just like Kayleigh! Or if you're in need of a bit of inspiration, why not request one of our new brochures.