Accessorising your new bedroom
Accessorising your new bedroom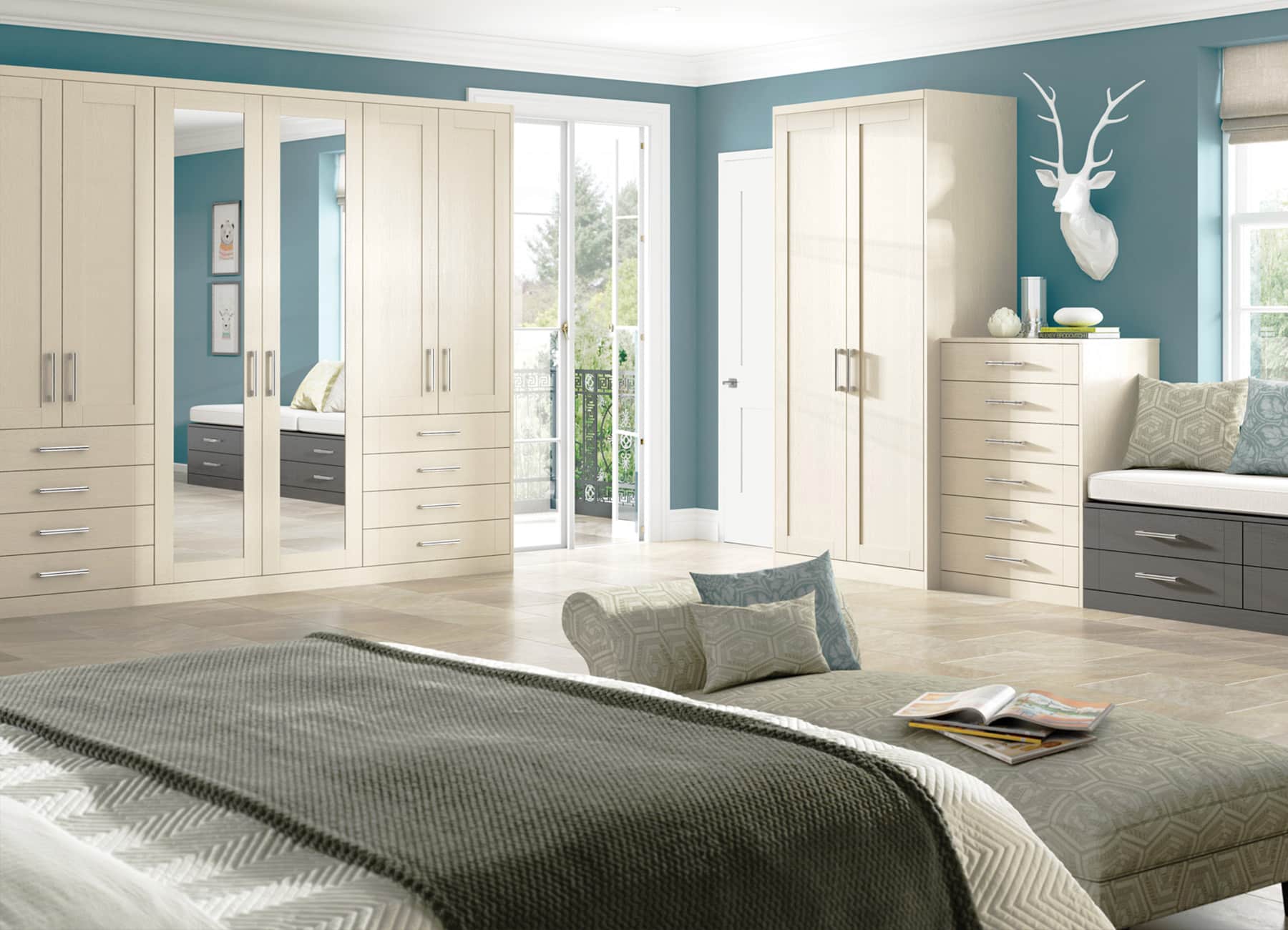 The average person spends around 33 years of their life in bed – we think that's a pretty good reason to invest in the perfect bedroom!
And once you've chosen your fitted bedroom, it's all about the accessories. White furniture, like our Shaker Classic fitted bedroom, is always popular and can be accessorised any number of ways to suit every taste and season.
Wallpaper, curtains, blinds, lighting, rugs, throws and cushions can all add colour and personality to your bedroom; creating a relaxing sanctuary, rather than somewhere to just get your head down and store your clothes.
Colour Theory
Choose a pale or muted palette as your base colour – soft pastels or calming greys help to create the perfect environment for a good night's sleep. Avoid large blocks of very bright colours like red and orange as they can increase heart rate and blood pressure; stimulating the body and making it harder to drift off into a peaceful sleep.
Wonder Walls
Wallpaper can completely transform the look of your bedroom, whether that be subtle or statement. Try wallpapering one wall in your bedroom to create a feature wall, usually a different colour, pattern or texture from the other walls. Feature walls tend to work best behind the headboard in bedrooms and can make a dramatic colour statement, create the illusion of a larger room, or add interesting texture and pattern.
Window Dressing
When it's dark, our bodies naturally release melatonin, which relaxes our muscles and helps us drift off. Light makes us feel more awake, so investing in black-out blinds or lined curtains can make all the difference in getting a great sleep. The new trend for double dressing bedroom windows with both curtains and blinds means you can introduce different patterns and colours as well as keeping rooms cosy and blocking out unwanted light and noise.
Let there be Light
Lighting is a key player in accessorising your bedroom. Small bedrooms benefit from two sources of light as well as the natural light from the windows, whilst larger rooms need at least three light sources. Choose a floor lamp to minimise bedside table clutter, a statement chandelier, wall lights that can be angled for reading, a Moroccan style lantern for atmosphere or a funky neon wall light – the possibilities are endless.
Rug-Tastic
A rug can be the missing piece of the jigsaw in a bedroom; delivering cosy comfort and a design statement, as well as protecting carpets and floors. And who wants to get out of bed and feel chilly floorboards under their feet? Rugs can anchor a bedroom, define it, add warmth and help to layer décor.
Pile on the Pillows
Cushions and throw pillows are ideal for creating a pop of colour, pattern and texture and are one of the easiest and most cost-effective ways to update a bedroom. Choose two or three cushions to accessorise your bed in contrasting fabrics, colours and textures to add interest and don't be afraid of mixing patterns – florals with geometrics or stripes with checks for example.