Be wowed by this safari-themed bedroom with supercharged storage
Be wowed by this safari-themed bedroom with supercharged storage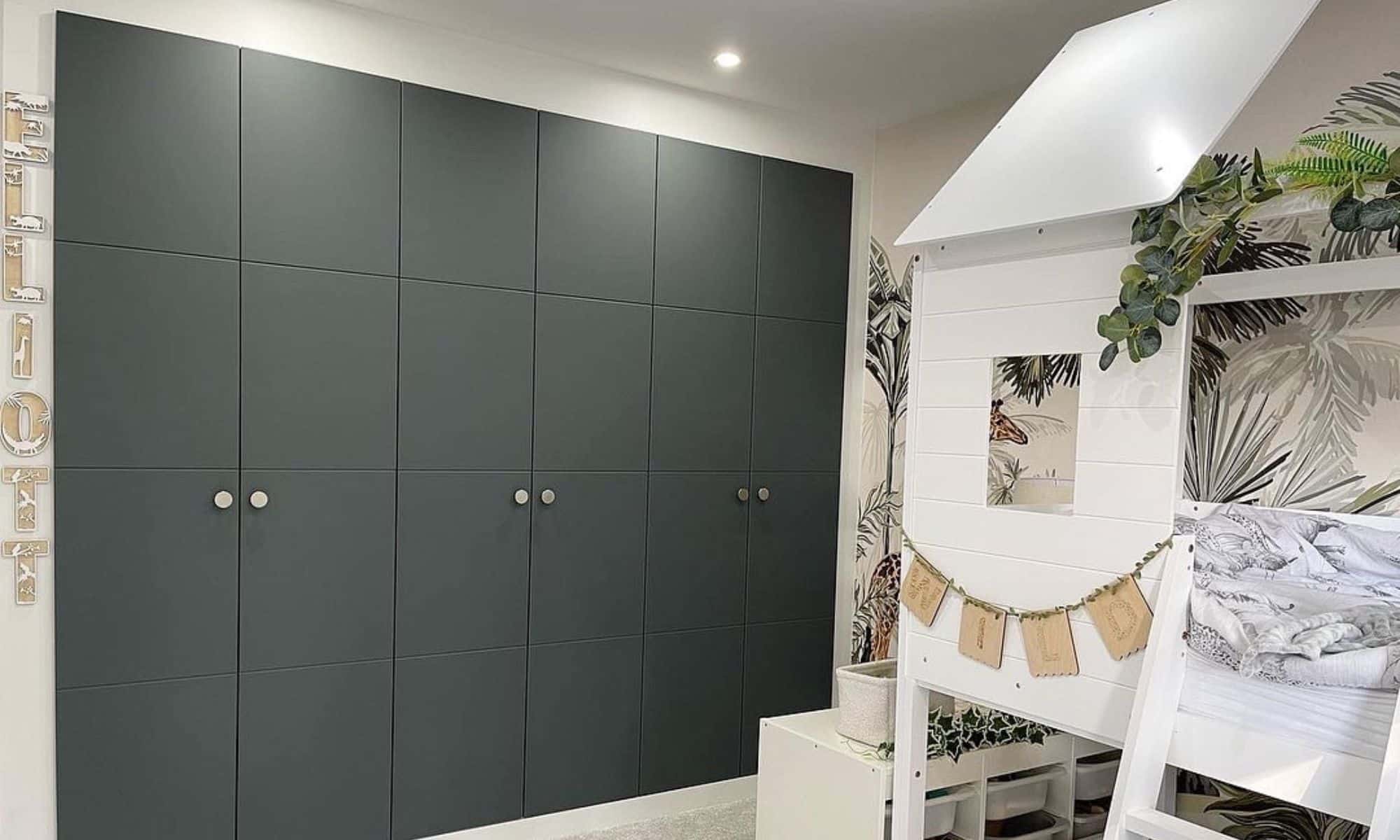 Influencer Kayleigh Hilbert (@no40_home_renovation) is renowned for her beautiful interiors with hundreds of thousands of Instagram followers who look to her for design inspiration. When she came to us to help create the perfect safari-themed bedroom for her son, Elliot (3), we knew the finished result would be something special.
With a clear vision for how she wanted the finished bedroom to look, we worked closely with Kayleigh to create a built-in wardrobe with ample intelligent storage that could grow and evolve with her son as we knew the fitted furniture would play a central role in his bedroom for many years to come. Here Kayleigh explains more about this stunning bedroom transformation.
So what was the room like before – why did you decide it was time for a makeover?
"It was time for Elliot to get a 'big boy' bedroom and move him into a proper bed. We wanted to make the transition extra special so decided to completely makeover his bedroom with a safari-theme as he's a huge animal lover.
We previously had an open fitted wardrobe in this bedroom which was there when we moved in. However, it mainly consisted of rails and a small shelving section down the middle which didn't really fit much in. We also really wanted some drawers to put smaller clothes in. The frame of the wardrobe also stuck out a bit which I always felt looked a bit strange.
I think that fitted furniture always makes the best use of any space and looks flawless when its's done right. We had a clear idea of what we wanted the inside to include. We knew with it being for our son that we wanted the internals to be designed so that it can be used as he grows up. We decided to have shelving down one side to store his toys for now, and then when he gets older it will be ideal for storing school work and books etc.
We have worked with My Fitted Bedroom before so we knew that they would do an amazing job."
How did you find the design process?
"The whole home design visit process was easy and relaxed from start to finish. Everything was measured really quickly and then the My Fitted Bedroom designer sat down with us and drew everything out on his laptop. As it's done in CAD we could move things around to see what would work best where. He showed us what height rails would work best and whether we had space to put any shelving above it. He then got out all of the door samples and handles for us to make our final decisions.
I loved looking through the samples and being able to place these in the room to see how they work with the lighting. We have lots of neutral colours in our home so stepping out of my comfort zone with a different colour palette was a bit daunting. Having the sample and being able to place it against the safari wallpaper really helped me to visualise how the finished room would look."
How did you find the installation process?
"It was so hassle-free. The actual bedroom furniture was delivered the day before the fitting day so when the installer, Matt, arrived he could get straight on. He was able to check through all the boxes and organise the different parts which made the installation itself really easy. Matt was absolutely brilliant and everything was left so tidy."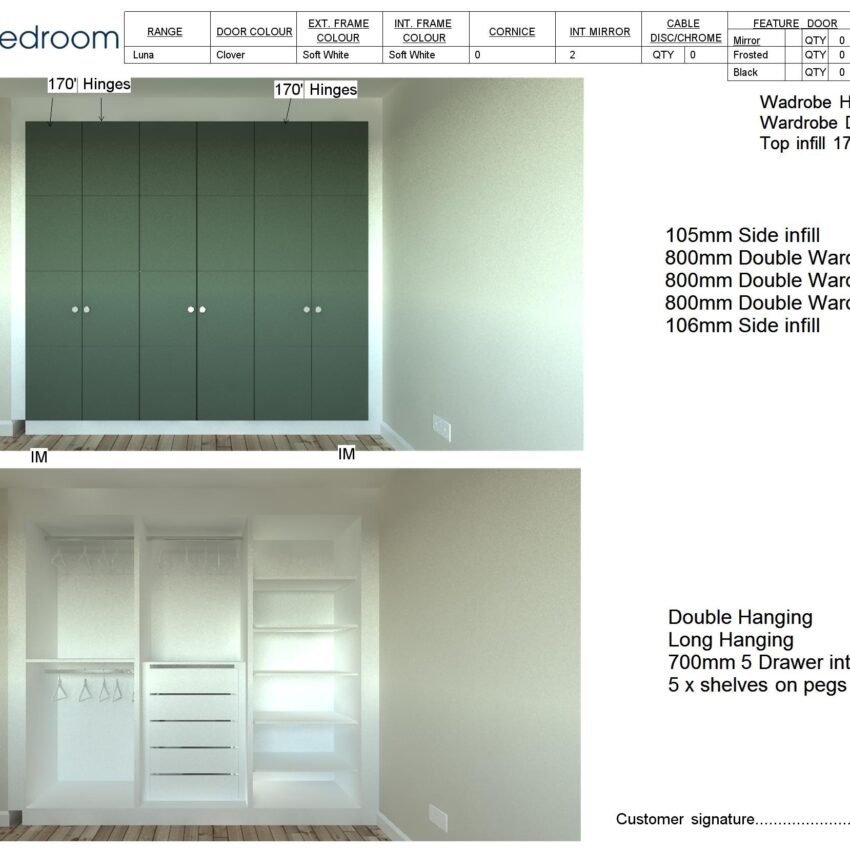 What design and bedroom storage inside the wardrobes did you choose?
"We eventually settled on the Luna design in Clover Green. I really loved the modern slab door design of the Luna and knew that it would complement the safari theme, yet stand the test of time when we decided to redecorate in a few years.
"Inside the wardrobe we went for three hanging rails, a chest of drawers and shelving all down one side. We thought this would be the best use of space and very practical for Elliot as he grows. We also loved the idea of having a rail lower down so that he can reach to choose his own clothes as he gets older and also for his school uniforms to go on. I like to plan ahead haha!"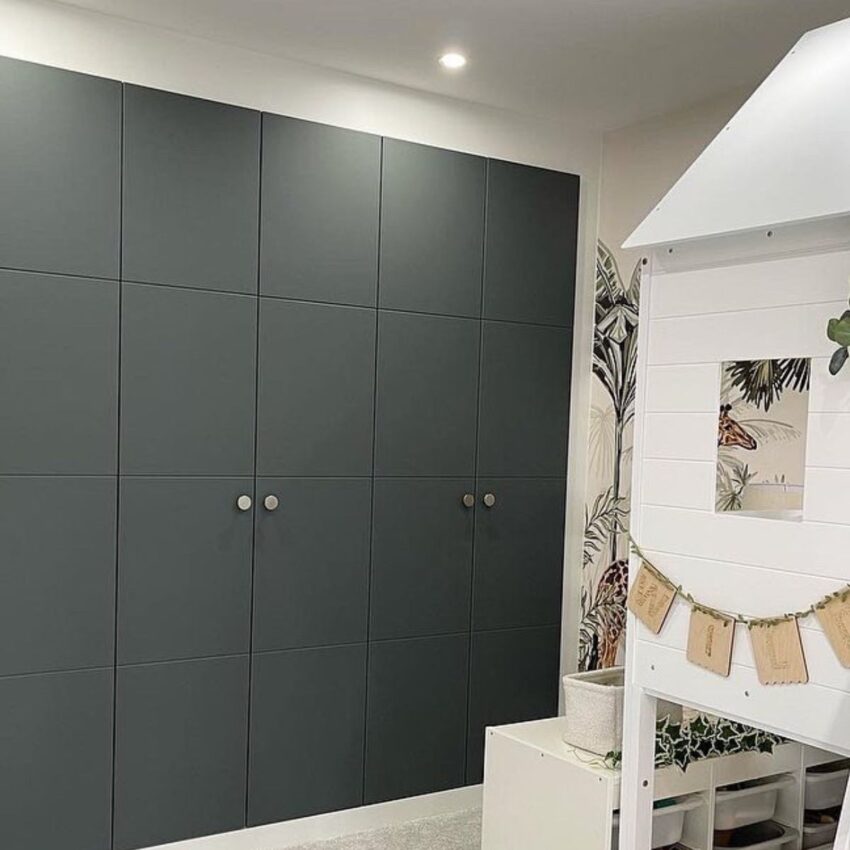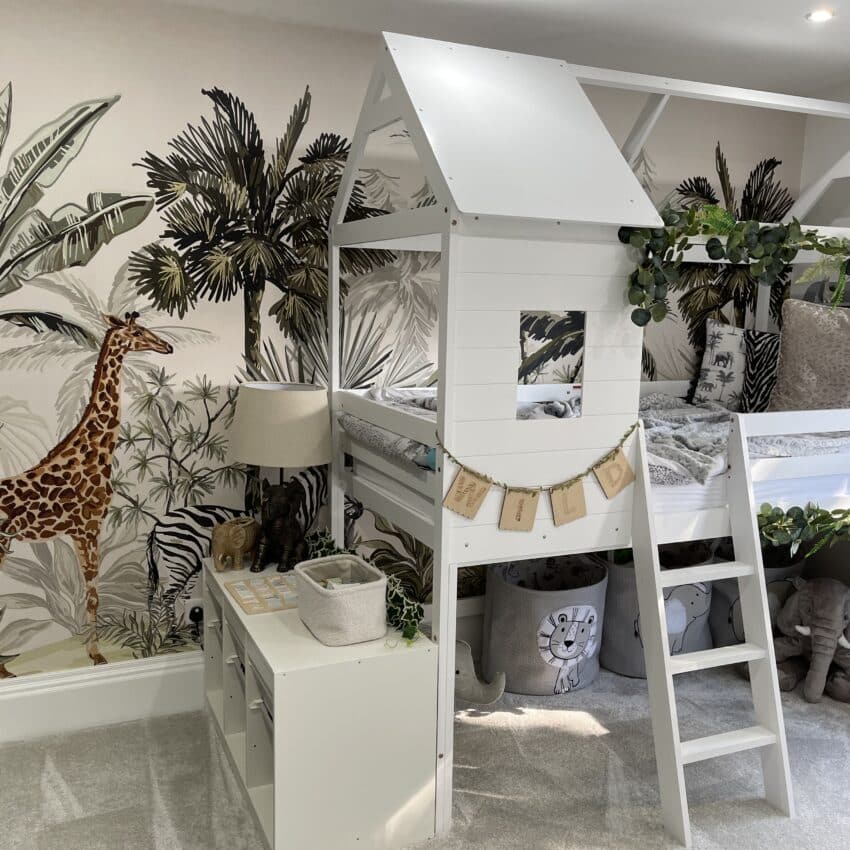 As you can see, Elliot's bedroom has been transformed into a stunning safari-themed space that is full of fun, yet still stays true to Kayleigh's love of neutral colour palettes and clean lines. The Luna wardrobes create the perfect backdrop for the feature wallpaper and cabin bed – and hidden inside is ample storage for now and as he grows.
The final word goes to Kayleigh …
"We are absolutely over the moon with our fitted wardrobes and all of the bedroom storage it's provided. It has not only completely transformed the bedroom but it has also made the most use of the room layout. It looks very sleek and I love the overall look of having the six doors in a row. The Clover Green wardrobe colour also goes perfect with the room's safari theme.
"The internal storage solutions have definitely made it easier for us to store clothes and toys aways, as well as having a lot of extra space to put spare bedding/towels due to the large shelving area we now have. The child height rail is also brilliant for helping our son to be a bit more independent and select what he would like to wear which is a huge bonus to us and something that he really enjoys doing. We would definitely recommend My Fitted Bedroom to anyone and everyone because the whole process from start to finish has been flawless. The communication has been great throughout each stage and we are extremely happy with the service we have received. It's Five Stars from us!"