Bedroom Makeover with fitted wardrobes and lots of colour
Bedroom Makeover with fitted wardrobes and lots of colour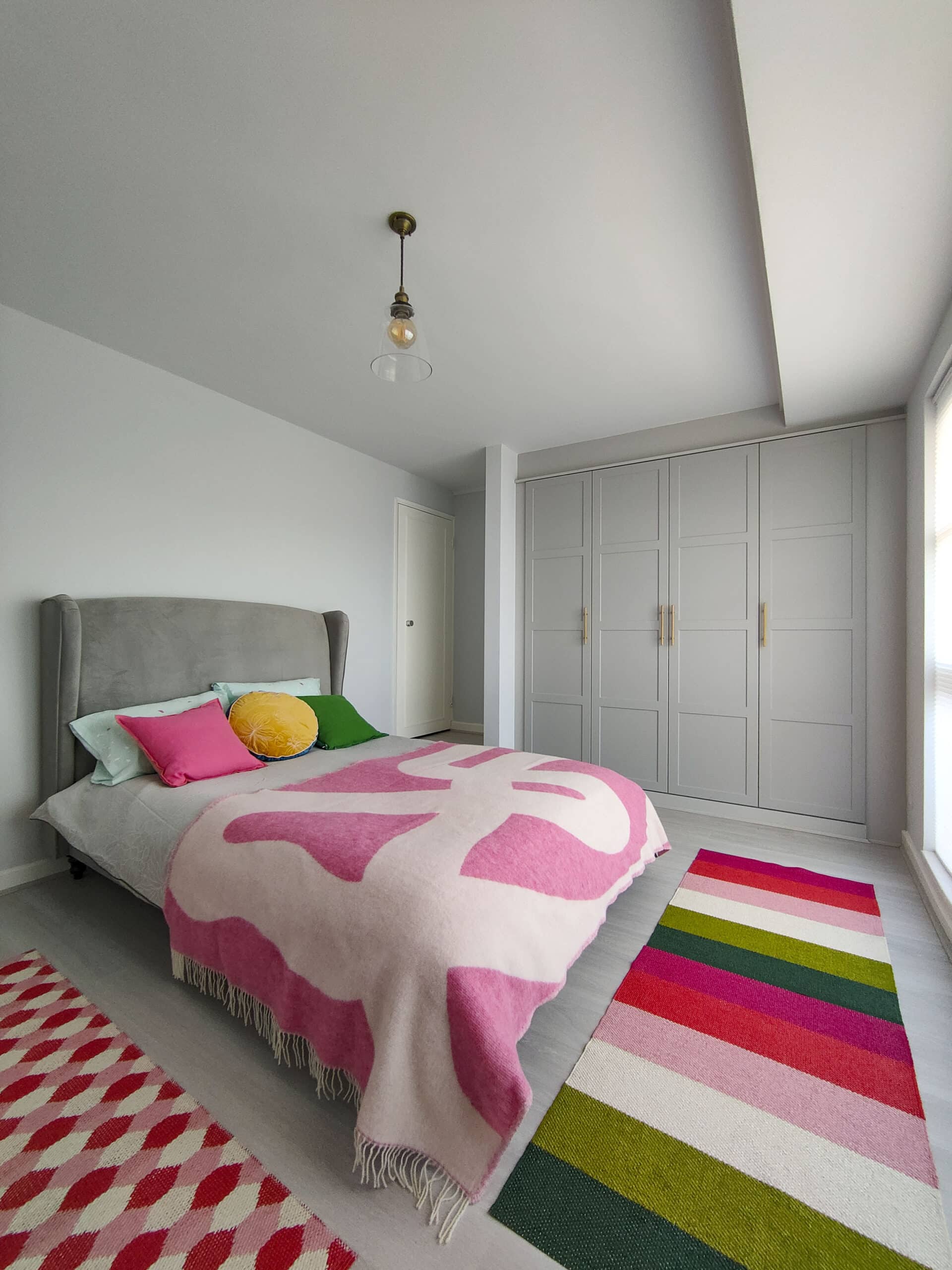 Geraldine Tan – also known as @littlebigbell to her hundreds of thousands of Instagram followers – is an award-winning interiors blogger renowned for expertly pairing colour and pattern to create joyful interior design. When she came to use to help create some much needed built-in storage for a London renovation project we knew that her expert eye for interiors would create something truly special – and we weren't wrong! Read on for the full details …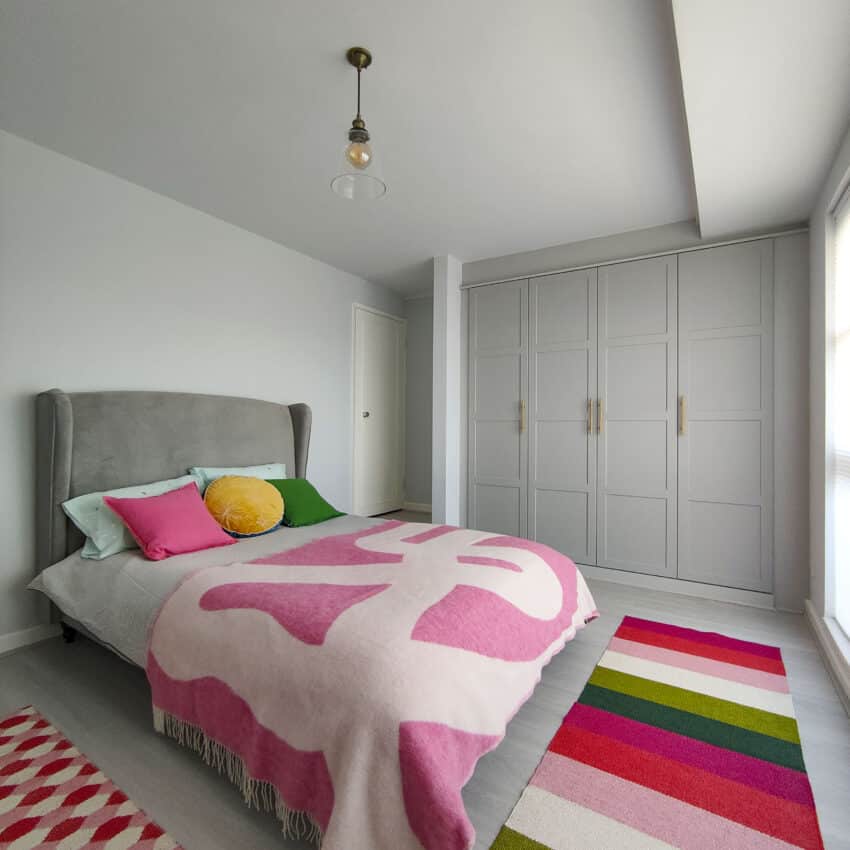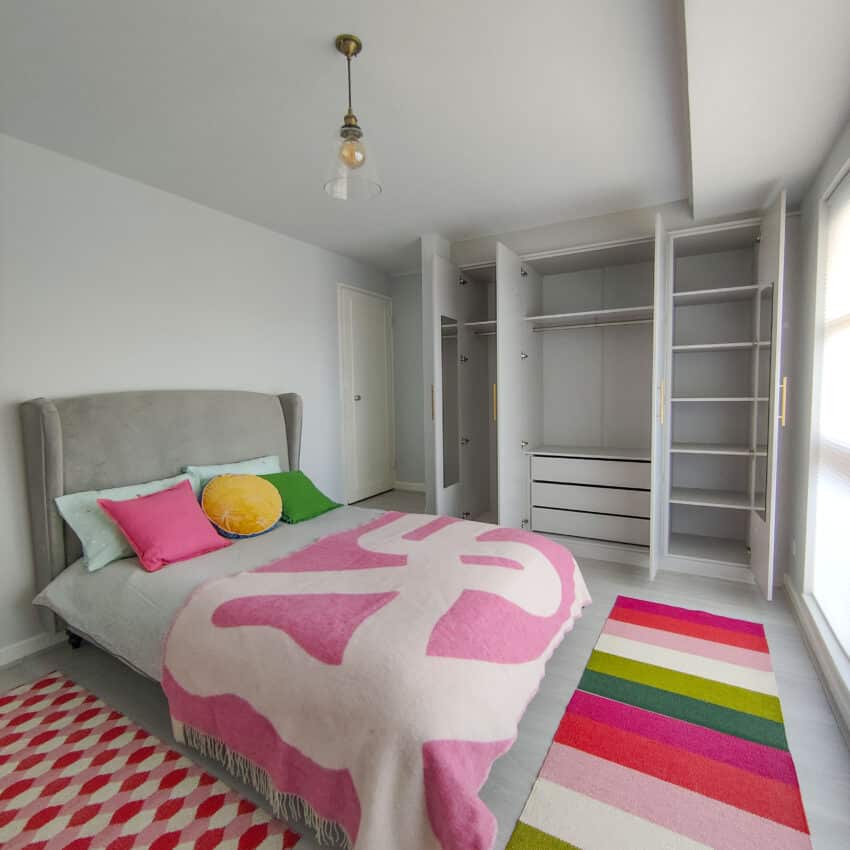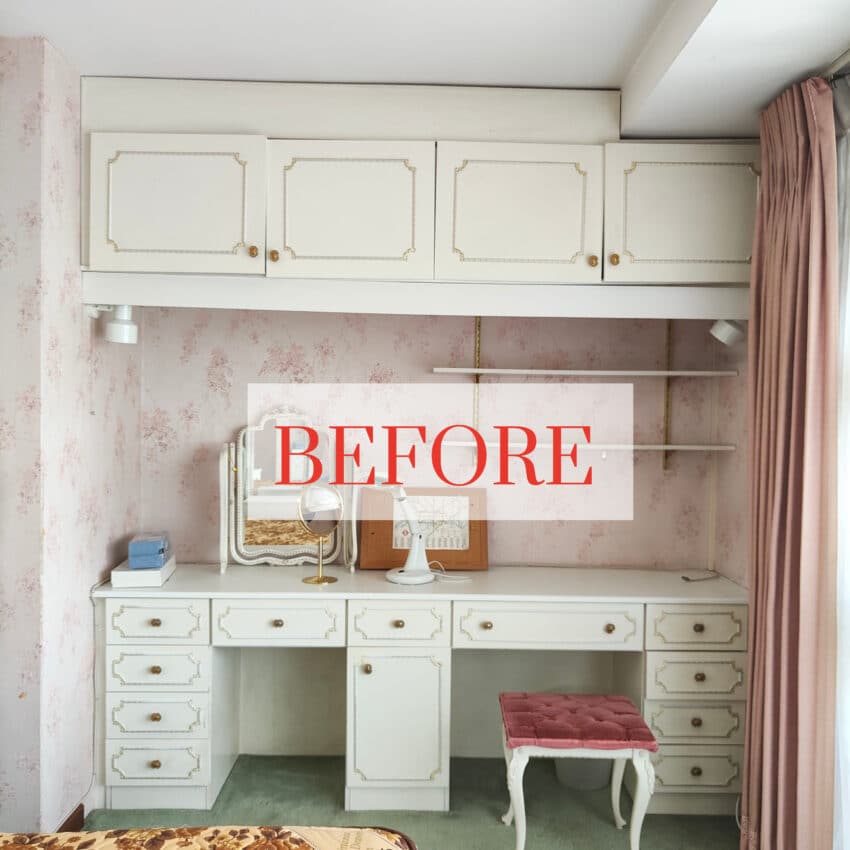 Overhauling dated design …
With dated interiors and impractical layout, Geraldine's plan was to completely overhaul the London flat to create a modern space that could be brought to life by her famous pops of colour and pattern clashes. The flat was to be used as a studio for photo shoots and location for family and friends visiting London to stay.
On to the bedroom and it was in need of a total re-vamp. Old fashioned and ill-fitting built-in cupboards and dressing table were using up valuable storage space which could be transformed with fitted wardrobes to add valuable hanging space which was missing.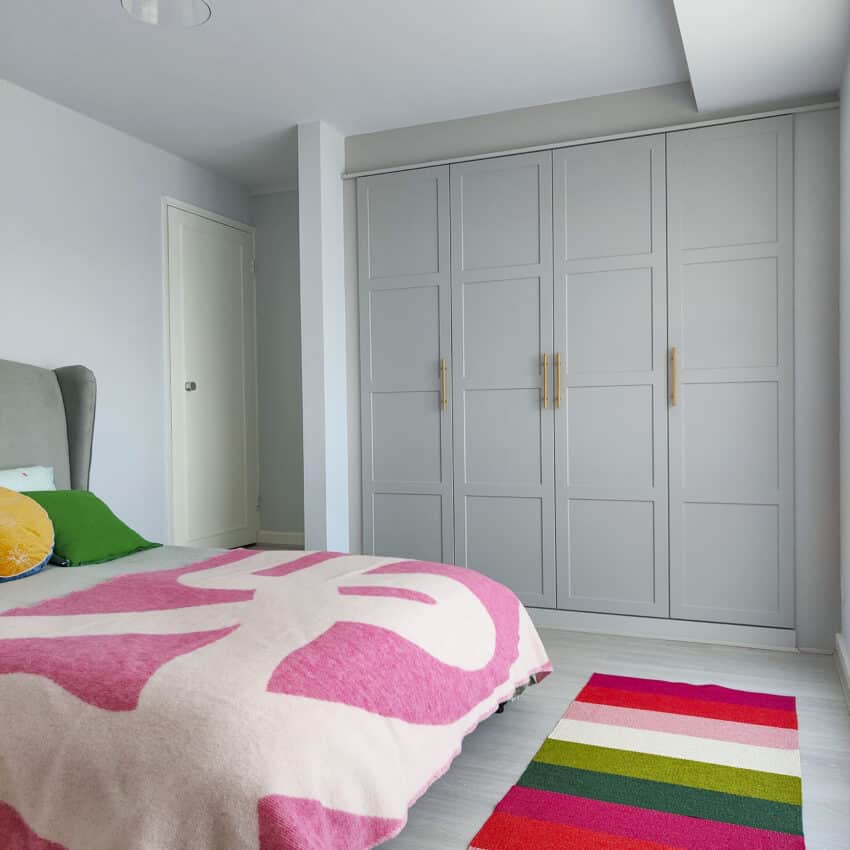 The design details …
After a home design visit from My Fitted Bedroom, Geraldine chose our Elise shaker style door in Dove Grey for the bedroom and the more contemporary Gabriella door for the coat cupboard in the living room. Inside the built-in wardrobes, a combination of full height hanging, half height hanging, shelves and drawers made the very best use of the space available. Giving Geraldine ample storage for herself and guests. After signing off the CAD drawings and a visit from our surveyor both projects were ready for installation.
What a transformation …
As you can see the finished results are simply spectacular. The dated interior is a thing of the past (thank goodness) and the bedroom has been given a new lease of life. The understated grey colour palette is the perfect backdrop to really make all of Geraldine's infamous colourful finishing touches and pops of pattern sing.
In the bedroom, the Elise fitted wardrobes take centre stage, maximising every inch of useable storage space and creating a sleek and refined backdrop.
And the final words go to Geraldine to sum up her My Fitted Bedroom experience …
"I will definitely be using My Fitted Bedroom again for any future fitted wardrobes projects. A big 10/10 from me.
"I've seen lots of home Instagram content creators do their own fitted wardrobe IKEA hacks too, but I'm not convinced they would stand the test of time. With My Fitted Bedroom everything was put together so diligently and professionally. I'm certain they have added value to the flat, and will certainly contribute to a tidy space.
"I chose My Fitted Bedroom based on their years of expertise, their customer reviews and  competitive prices. The whole process for me, from design, order, to fitting of the wardrobes was as anticipated – seamless and professional. I really like the overall finish of the fitted wardrobes. They make the rooms look polished and upmarket."
You can read also Geraldine's own blog about her My Fitted Bedroom experience.
Feeling inspired? Book your free home design visit and see how we can help you create the bedroom of your dreams.