How to design a walk-in wardrobe
How to design a walk-in wardrobe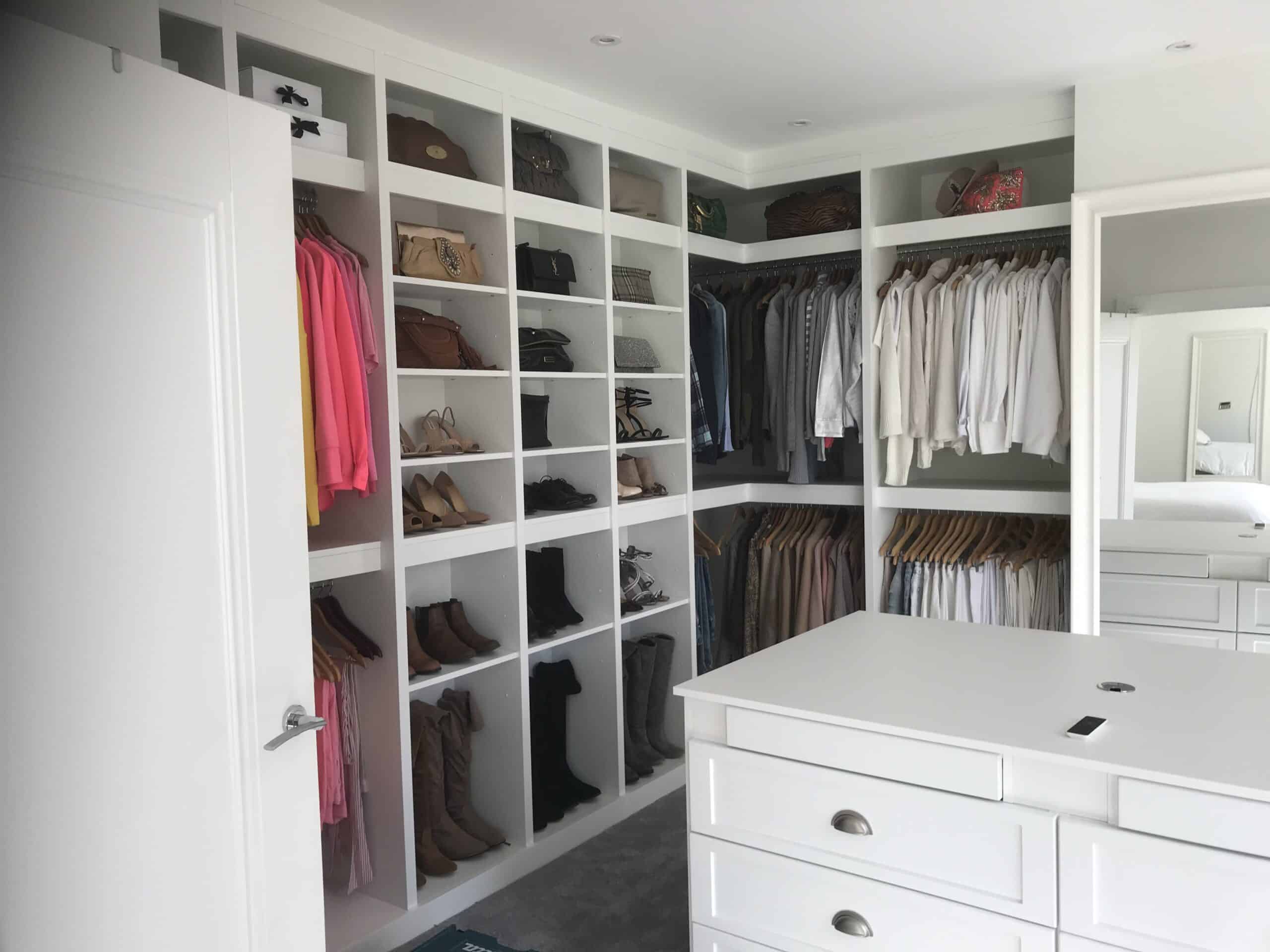 We've seen a big increase in demand for walk-in wardrobes recently, so we asked our designers to talk us through some of their latest designs and provide some insider tips on creating a dreamy dressing room.
Whether you're a label-lover with a 'to die for' wardrobe full of designer clothes, handbags and shoes (lucky you!), or a neat-freak who likes an organised space, a walk-in wardrobe is a great way to store clothes and keep bedrooms clutter free.
And contrary to popular belief, a walk-in wardrobe isn't just for those with huge houses – we're seeing a trend for creating sub-sections of 'normal sized rooms' and the use of spare rooms to create dedicated dressing rooms.
Planning the space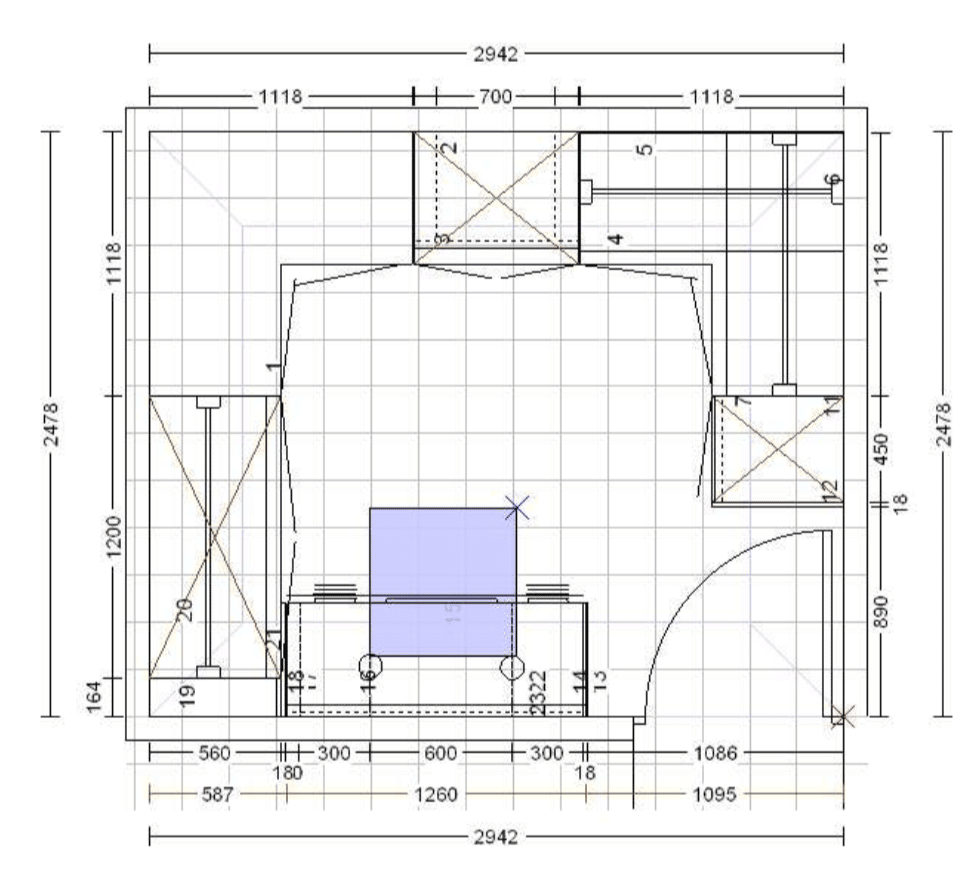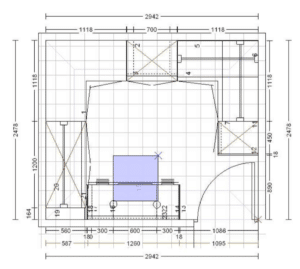 We begin the process by looking at the overall space we have to work with, and where any doors or entranceways into the area need to fit in. Converting an unused spare room is extremely popular, so often we will have to work with existing windows and doors, but this can easily be built into the design and layout.
If you're planning an extension, it's a great idea to actually work back from a walk-in wardrobe layout to actually decide where doors, openings and fixtures should go.
If the dressing room area is part of the master bedroom, or an adjacent room, it's common that there won't be an opening door, which actually saves quite a bit of space for more storage.
What's great about our design service is that we can create an initial design based on your needs and then change things around during your in-home or virtual (online) consultation to get a final solution that's exactly what you want.
We will also ensure you think about plug sockets for those 'can't do without' accessories like hairdryers, straighteners and styling wands, and identify any other awkward elements in the room that we need to work around.
Galley Style Walk-in Wardrobes
A galley style walk-through wardrobe is a great use of a small room that perhaps won't fit a bed. Even just one wall of storage in a narrow room can work really well – or have storage either side leaving enough room to get things from both storage areas as shown in the above left design.
We can design exactly around your personal storage needs to make the most of the available space by using the whole of the floor to ceiling height.
We look at dual hanging solutions – long-level hanging for dresses, jumpsuits and trousers, with short level for shirts, tops and jackets. We can also incorporate other storage configurations such as shelves and drawers, shoe racks and beauty bays.
Full Room Walk-in Wardrobes
If you're lucky enough to have a whole room to dedicate to your dressing room, our designers can include luxe elements like a dressing table or vanity area, tables, mirrors and seating – the possibilities are endless.
The key benefit of a dedicated dressing area is that the main bedroom is left as a clean and clutter free space, with only the bed and bedside tables within the room.
Sub-sections of master bedrooms
We are seeing more customers wanting this kind of open-plan walk-in wardrobe, which is enhanced by clever lighting and a well-designed space. It works particularly well in a modern apartment and with 'minimalist' décor.
Loft rooms
An awkward shaped room actually makes a perfect dressing room as we can work storage into alcoves or sloped ceilings, making use of every inch of space.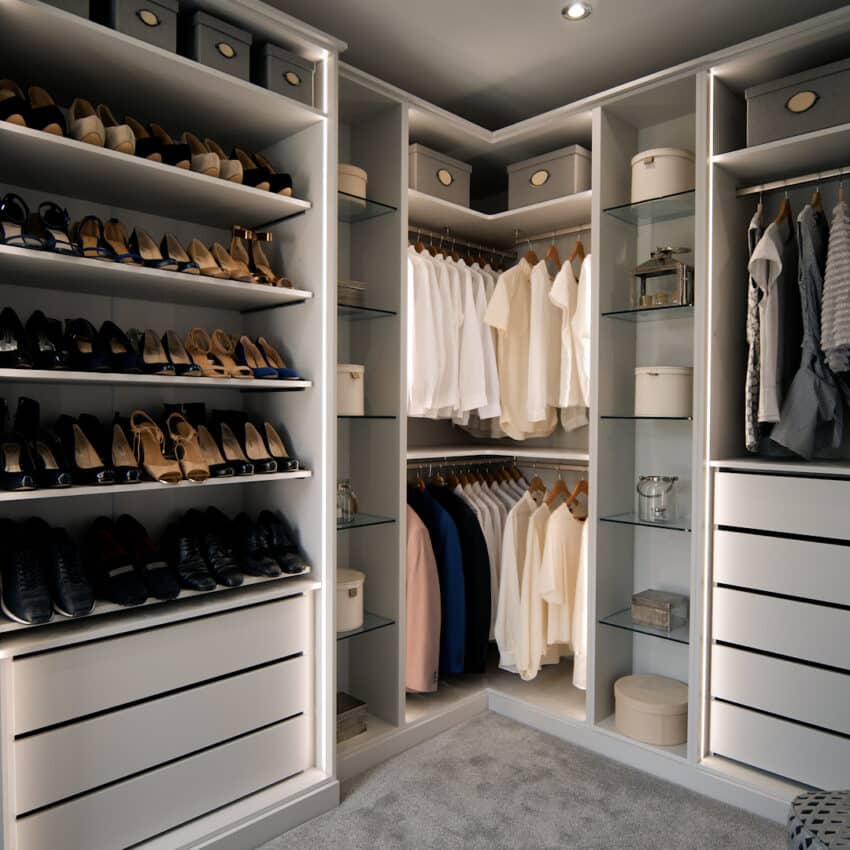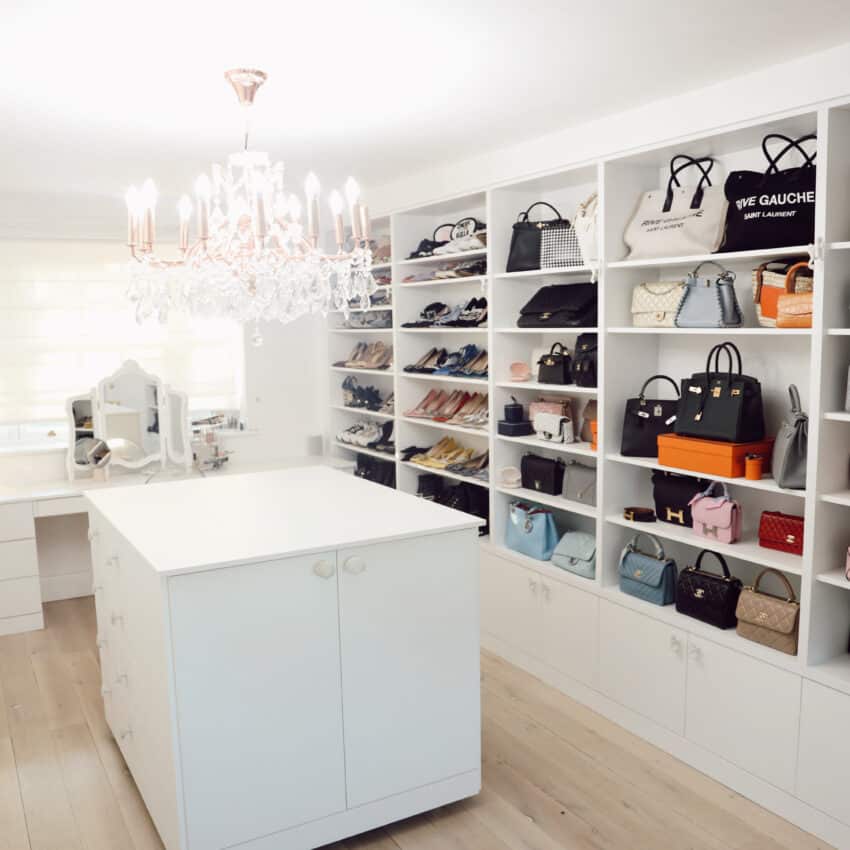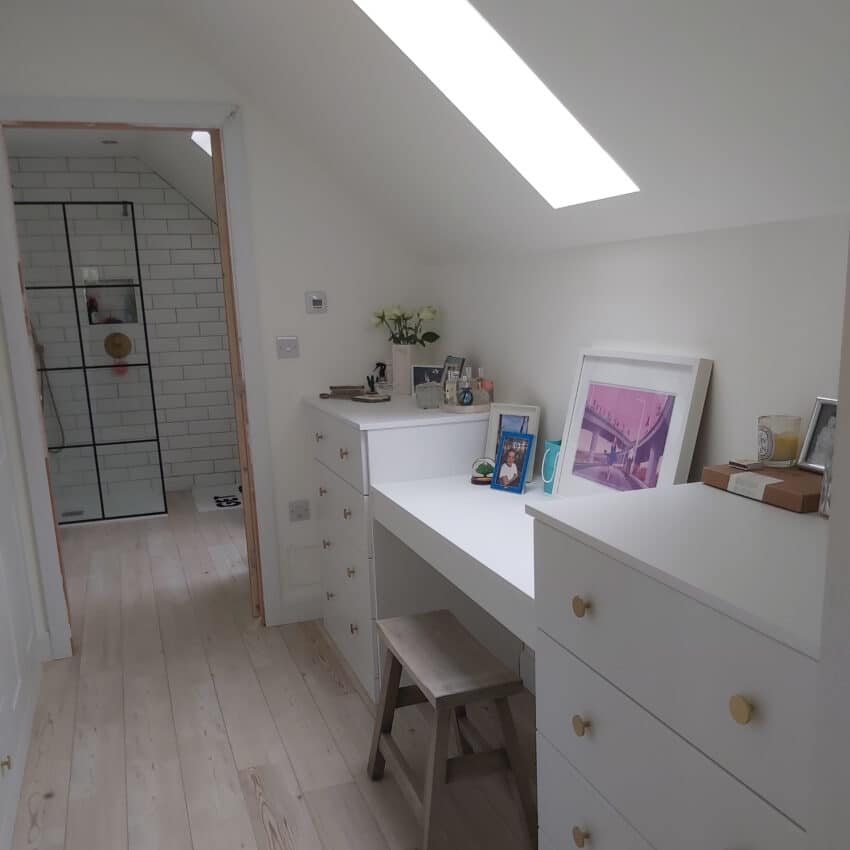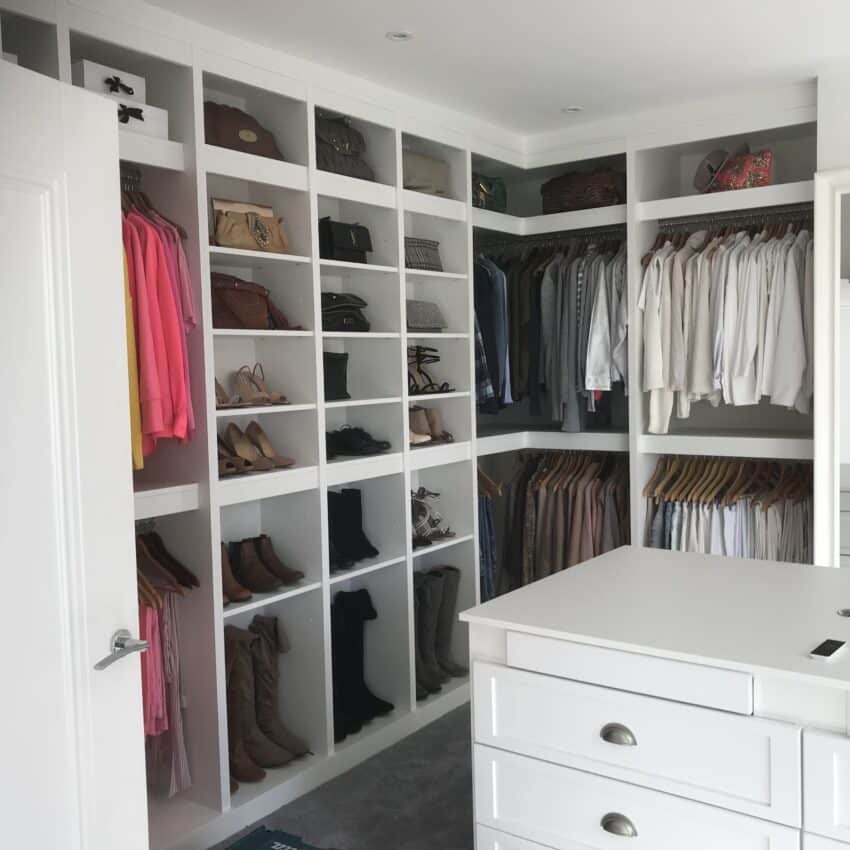 Additional ideas and considerations  
Beauty Bays – include beauty bays and make-up zones within the storage configuration – or even just leave space for a small round mirror. This keeps all make up, lotions and jewellery in one place with no clutter in the main bedroom.
Lighting – Spotlights and LEDs inside cabinets and under shelving can be utilised to highlight handbag or shoe collections. This kind of lighting effect is practical as well as aesthetic for that 'showroom' effect. Or go for a statement light like our customer in London.
Handbag and shoe storage – Bespoke shelving solutions are perfect for displaying handbags and shoes neatly within a walk-in wardrobe. We recently fitted a stunning walk-in wardrobe for influencer Claire Chanelle – view her video reveal on YouTube https://youtu.be/VTHquVZJU7M
Colour – While white and soft grey is the most popular choice for open shelving, we now show customers how they can mix and match darker shades with contrasting lighter colours for a fantastic bespoke look – and they love it. Extremely popular are charcoal coloured inner shelving with white and dove grey frames.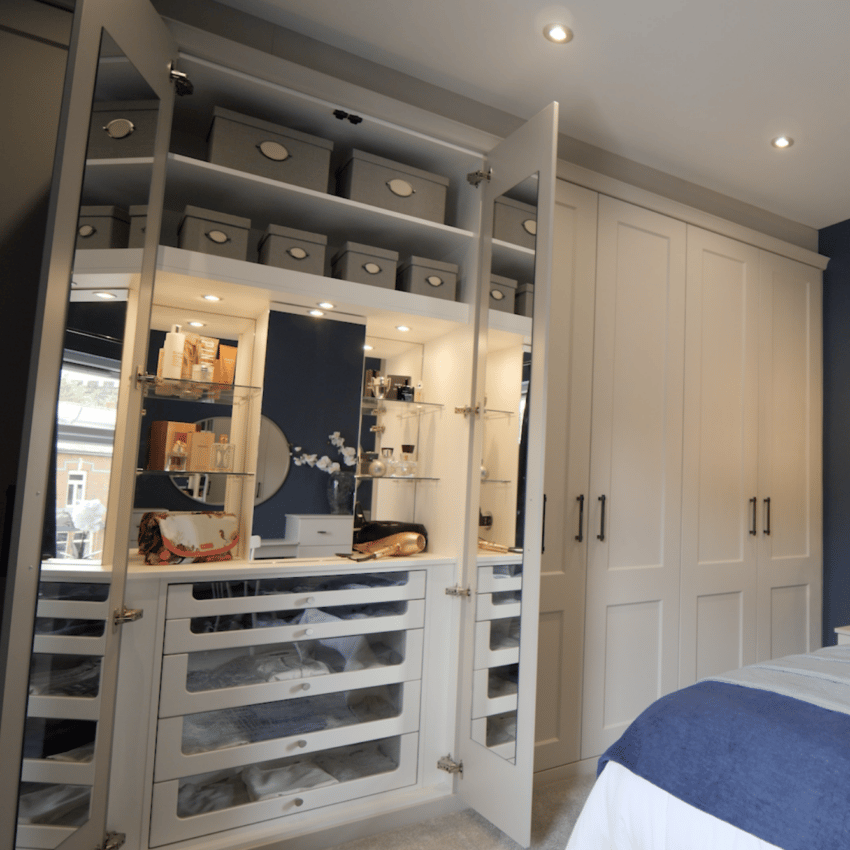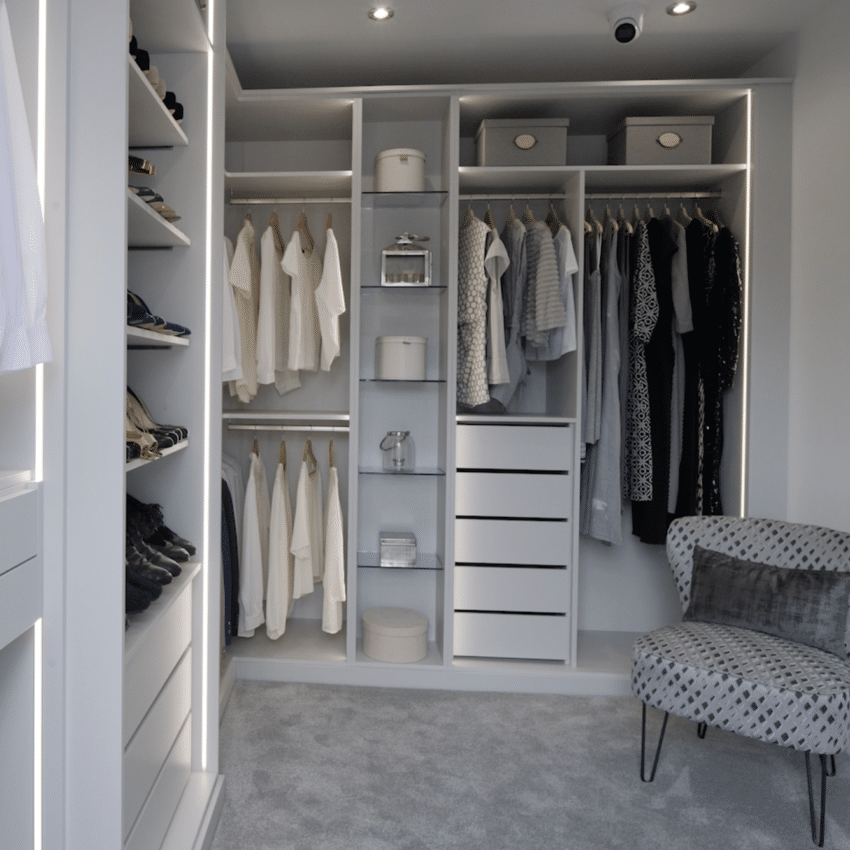 Dressing Room Styling Ideas
Accent chair – add a bright velvet cocktail chair to add visual impact. Not only will this provide a splash of colour, but it gives you somewhere to apply make-up or to sit and put on shoes.
Full length mirror (or two) – this gives an illusion of more space as well as for looking at your chosen outfit from top to bottom.
Rugs – introduce a rug or a runner in a galley walk-in wardrobe to provide colour and to further personalise the space. As wall space is taken for storage 'art-inspired' flooring designs can deliver the wow factor.
Matching hangers – with open storage small details, like having matching hangers, can make a big difference.
Baskets – baskets and boxes can be a great option in open shelving for loose items.