How we created a light and bright dressing room with our Elise design
How we created a light and bright dressing room with our Elise design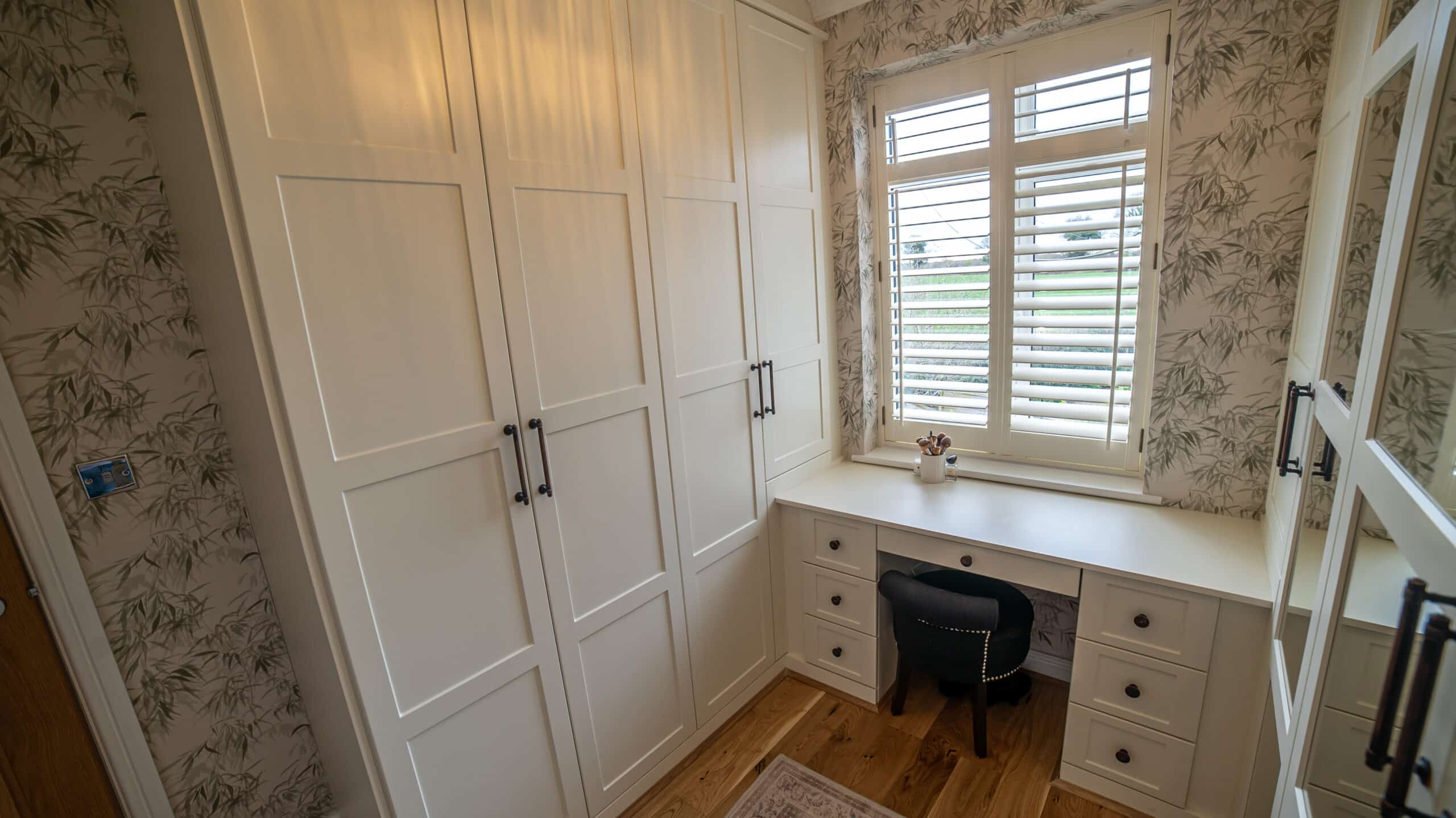 Here's another fantastic dressing room that we created for photographer and videographer Cal Thomson, who in fact created our My Fitted Bedroom promotional video. He was so impressed with our products that he ordered a bespoke fitting room from us for his home.
Designing a dressing room with fitted furniture can help you create a functional and organised space for your clothing and accessories. Within this stunning dressing room, one side of the room has Elise fitted wardrobes in white with mirrored panels while the opposite wall has a full Elise door. The four panel doors give the room a modern, yet classic look whilst the white keeps the space feeling fresh, clean and clutter-free.
Adding the mirrors to our Elise doors has made the room so much lighter and brighter, whilst every inch of space is maximised with intelligent storage.
To add to the finished look, we also built a matching dressing table that joins the furniture together and sits neatly under the window.  The MyFittedBedroom team love the synergy that all of the joining furniture creates, helping the design to flow through the room.
We love the idea of a clean, minimalist design with ample storage space and our ranges of fitted wardrobes maximise storage while maintaining a sleek and elegant look.
Our fitted wardrobes are customised to fit seamlessly into your bedroom, utilising every inch of available space efficiently. From sliding doors to built-in drawers and shelves, we have a solution for all your storage needs.
Take a look at the amazing transformation video which shows your the journey from before…. to after.
It's time to elevate your bedroom experience with My Fitted Bedroom. Contact us today and let us help you create the bedroom you've always dreamed of.
Find out what the My Fitted Bedroom design team can do with your space. Book your FREE Home Design Visit here.