Shaker – the bedroom design trend that never goes out of fashion
Shaker – the bedroom design trend that never goes out of fashion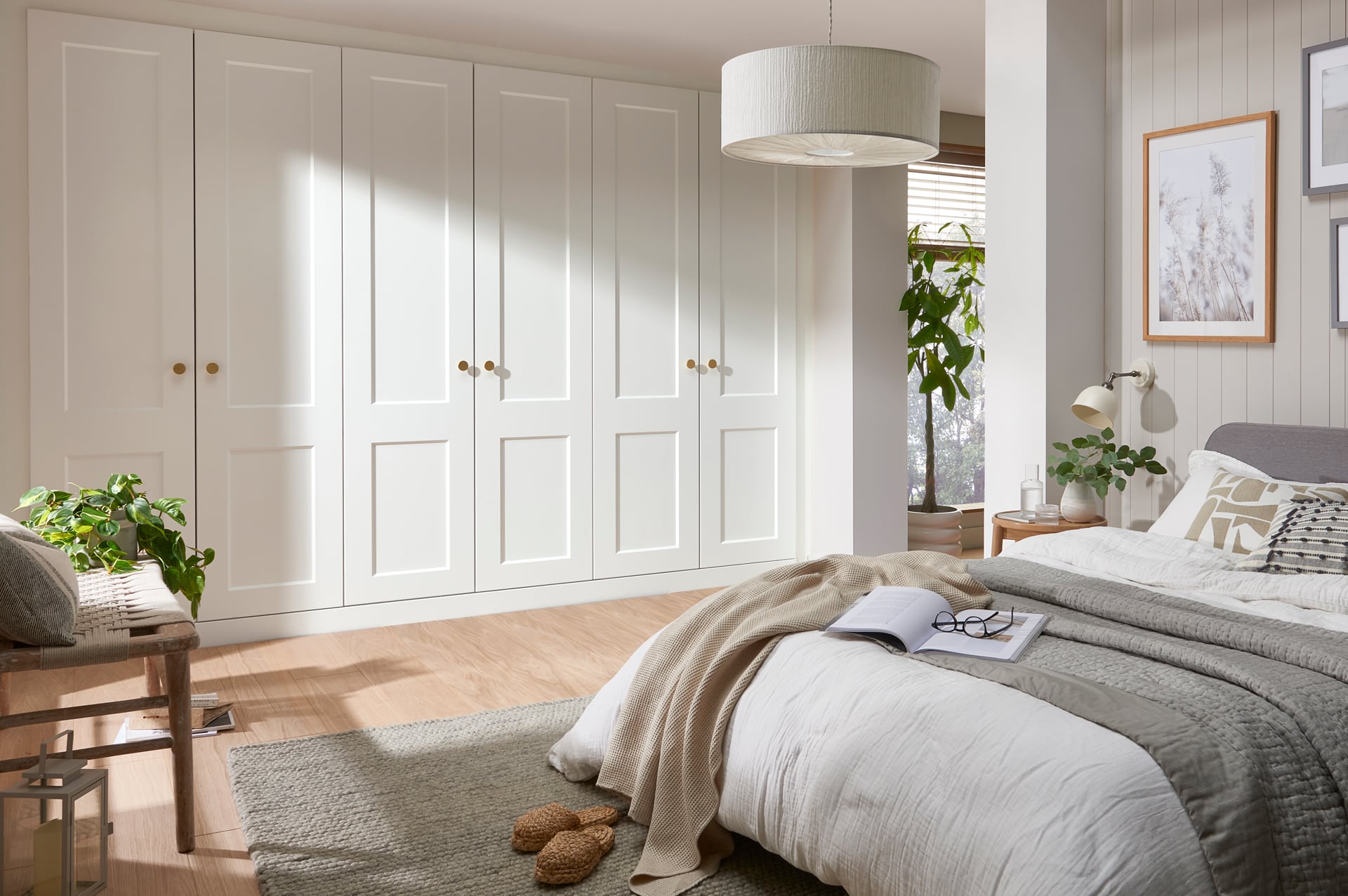 It may have its roots in the late 1700's but shaker doors styles are showing no signs of losing their appeal in today's homes up and down the UK – in fact if the past 12 months are anything to go by, it's gaining in momentum.
Here at My Fitted Bedroom we have seen a continuing rise in enquiries over the past few years for our shaker style fitted bedroom ranges, and data from Google Trends mirrors this showing that Google searches for "shaker style wardrobes" have increased in the same period.
So what is 'shaker bedroom style', why is it so appealing and how can you integrate it into a modern bedroom scheme?
Our resident design expert, Megan Baker, has the lowdown:
Where does the Shaker style originate?
Shaker design style started back in the 18th century. It was originally developed by a branch of Christianity known as the Shakers. One of their core principles of design was that function should come before everything else – with clean lines and simplicity at its heart. It is the minimalistic look which has stood the test of time and why shaker influences are still one of the most popular design looks throughout the home. In fact, research conducted by Dulux found that in 2020, pictures of 'shaker kitchen cupboards' were the most liked kitchen images on Instagram.
Isn't Shaker just for kitchens? How do you create the look in the bedroom?
When you think of shaker your first thought might be kitchens, but the crisp simple lines and understated craftmanship of this trend is perfect for fitted bedroom furniture and can also be brought through other pieces – such as beds and chairs.
With its simple, repetitive, recessed panel design, shaker style fitted wardrobes look stylish and sophisticated – providing an understated backdrop to build a design scheme around. The beauty of modern shaker is that colour is being used to inject personality and design flair into the finished look – with deep blues, dusky greys and sage greens adding a new dimension to the trend.
One of our most popular shaker ranges is the four panel Elise which is available in 29 colours – including soft palette colours, wood effect and super matte finishes which mean that you can create the perfect fitted shaker style wardrobe that is exactly right for you.
Three ways with shaker – be inspired
We have created some fabulous shaker style fitted wardrobes– here is some design inspiration to help you create your perfect shaker design.
Go Bold
Make the wardrobe the focal point of your design scheme by opting for a bold colour like classic blue – below. Don't forget to consider those finishing touches – like choosing handles in a colour or material that can be tied into other elements of the room such as light fittings and accessories. We love this blue and yellow palette and how our Elise Shaker style wardrobes are elevated from simple and understated to bold and beautiful.
Go Classic
White and classic don't have to mean boring. Here our Classic Shaker wardrobes have been used to create much needed storage in alcoves between a fireplace. With an awkward, mis-shaped space to fill, shelving has been added to break up the look and create a design-led focal point. We love how the understated white wardrobe and wooden floor really capture the classic shaker design ethos.
Go modern
Adding mirrors to your design will break up the solid panels, creating a more contemporary final look. If you have a big space to fill, using mirrors is a great way of adding more depth to the finished scheme and they provide a practical add on. Here our Classic Shaker in Porcelain looks great with the addition of mirrored panels.
So what are you waiting for? Is shaker going to be the trend shaping your new bedroom? Why not arrange a free design visit or find out more about our fitted bedroom range here.