Celebrity makeover for 'A Place in The Sun' TV presenter Laura Hamilton
Celebrity makeover for 'A Place in The Sun' TV presenter Laura Hamilton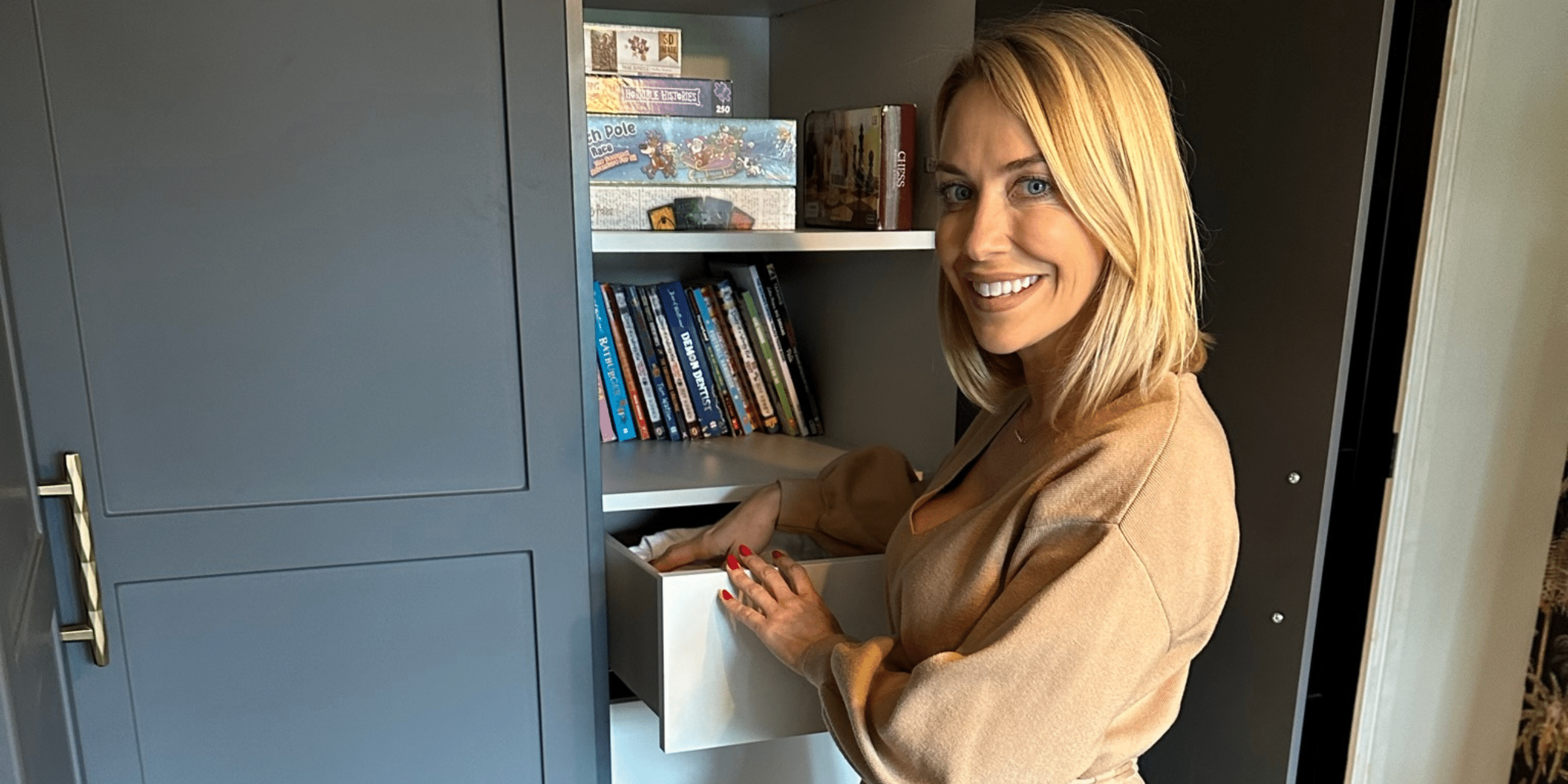 When we heard that Laura Hamilton, presenter of Channel 4 TV show 'A Place In The Sun', was renovating her home we were so excited to get involved and help her with the design and installation of bespoke fitted wardrobes and walk-in dressing rooms for her children's rooms, guest room and the main bedroom.
Laura started the process by with a home design visit at her house. Our designer was given a tour around Laura's house so he could see the whole space and get an idea of Laura's design style. He used his expertise to come up with some amazing bedroom design ideas. They went through design and product ideas together and then reviewed the designs on screen – this really helped to visualise the space for Laura.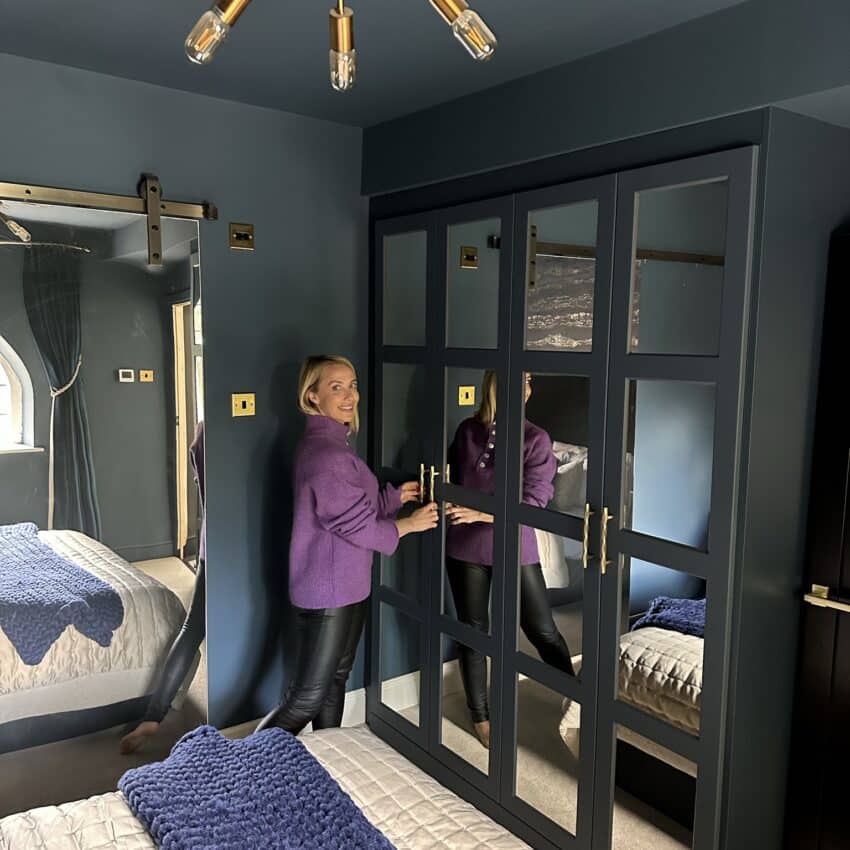 For the guest room, Laura chose Elise in Classic Blue, with mirrored panels, to create a slimline fitted wardrobe. The room was limited for space, so Laura previously removed the chimney breast and replaced it with the slimline wardrobe in blue to compliment the walls. The mirrors helped to reflect and lighten the room and the front facing hanging space maximised storage.
In her son Rocco's room, Laura chose Elise doors in Classic Graphite. The fitted corner unit wardrobes create a modern space and clever, hidden storage for organising his books and games. We completed the design and provided a practical work space with an additional desk and drawers. The corner design maximises the space in the room.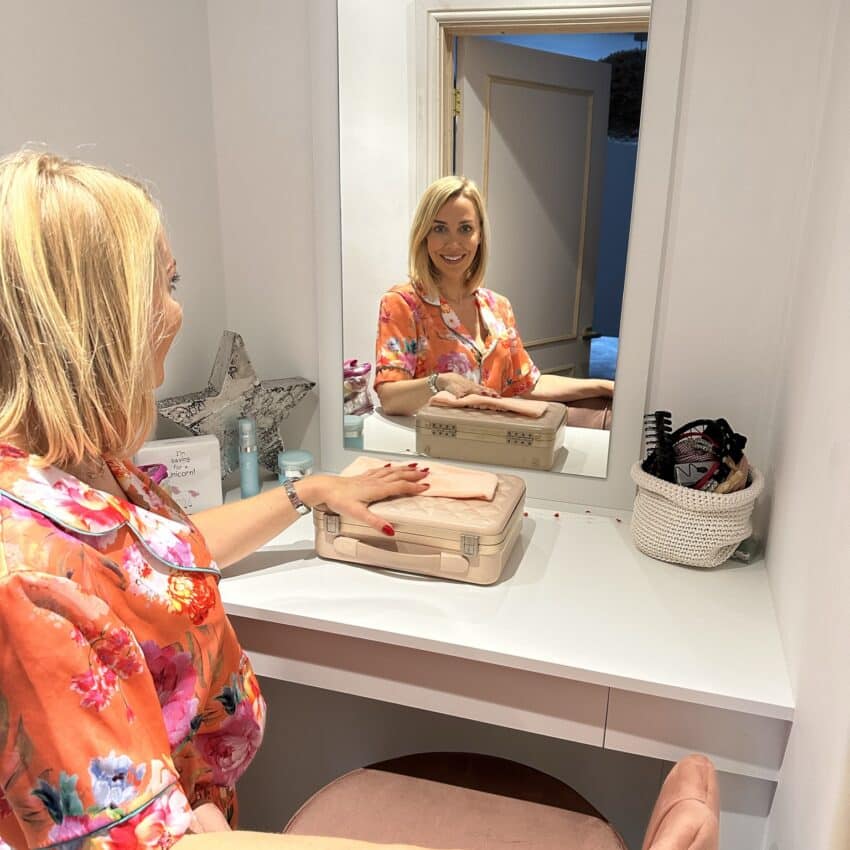 In her daughter Talia's room, we created a walk-in-wardrobe complete with dressing table, mirror and drawers with all of her belongings neatly organised into their own place. Laura chose the Cassia design in Soft White. A little-girls dream come true!
In her bedroom Laura chose a walk-in wardrobe from the Cassia range, in Dove Grey. Our design team worked closely with Laura to make sure that there was enough shelf space for her shoes and also the correct hanging space for all of her dresses.
Laura's comments on the finished results: "If you are looking for some clever and expertly fitted wardrobe ideas then myfittedbedroom offer some stunning bespoke options. It's no surprise they are consistently given five-star reviews online because their service, from their initial design consultation, through to installation is fantastic."
"We love our fitted wardrobes and walk-in wardrobes that have helped turn a house in to a home!"
The bedroom makeover was part of Laura's renovation of her home #TheRebuild. See the progress here or follow Laura on Instagram @laurahamiltontv 
She's also done a video for us in The Rebuild EP 19 https://www.youtube.com/watch?v=iu82CoeJC_A
Feeling inspired? Book your FREE Home Design Visit here and see how the MyFitted team can help to transform your home.