Maximising the space in fitted wardrobes
Maximising the space in fitted wardrobes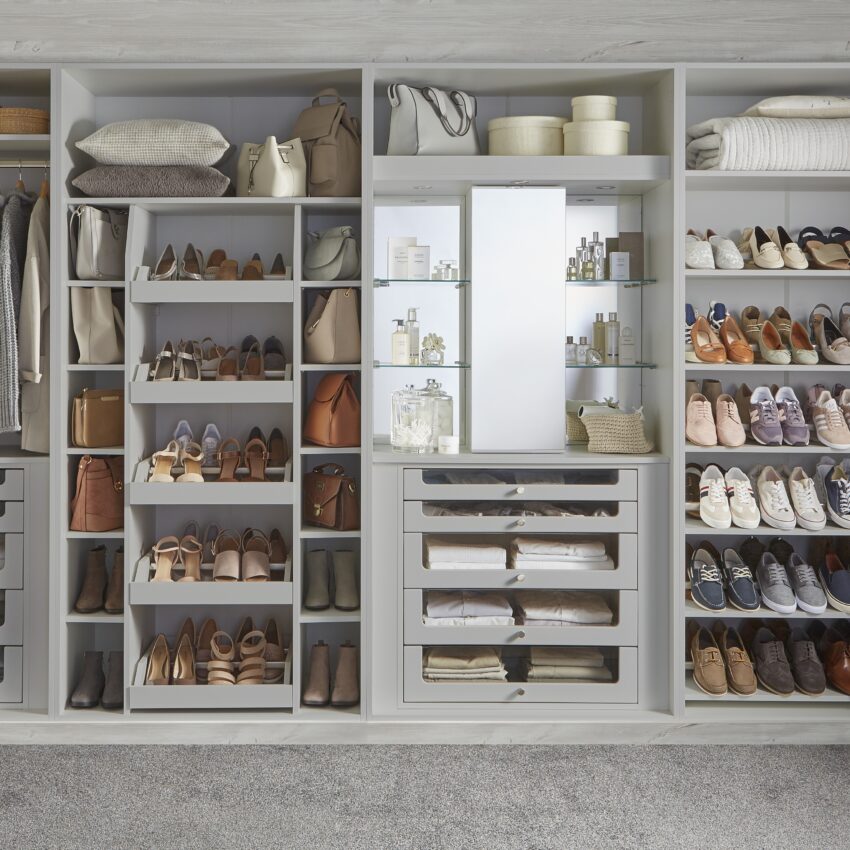 Can you overestimate the value of intelligent storage in the bedroom? We think not! Clever storage can revolutionise your space and ensure your bedroom is a clutter-free and altogether more relaxing place. And, whether you like to fold, hang or even just shove, we've got the perfect bespoke storage solution. Our storage solutions can be used for both internal use – in fitted wardrobes or tucked neatly behind sliding wardrobes doors – or for walk-in-wardrobes.
Here our expert Megan Baker shares her top tips on maximising your storage space:
A place for everything, and everything in its place.
"More and more customers are opting for configurations that go beyond hanging rails and drawers, by incorporating bespoke shoe and bag storage within a wardrobe."
"Replacing the dressing table concept (often messy and filled with bottles, brushes and make-up palettes) built-in beauty bays – hidden behind wardrobe doors – are ideal for keeping make-up and toiletries hidden away. It's a discreet dressing table and so much more – the mirrored cabinet opens to reveal ample space for your fragrances, make-up and other beauty products, while the glass shelves and lighting add a real touch of class."
"Regardless of how many pairs of shoes you have (and the average woman owns over 24 pairs), our clever shoe storage solutions will keep them in-check. And for those who love handbags as much as shoes (or co-ordinating the two) – you can even add bespoke shelves to store handbags and other items alongside your shoes. It's every accessory lover's dream!
"Men and women's storage needs do differ, due to the type of clothing that dominates their wardrobes and the specific needs associated with the way different types of items need to be hung or folded away. Our gentleman's dresser is perfect for organising shirts, trousers, shoes and underwear all in one place."
Megan's Top tips to keep wardrobe storage clutter-free
"Cramming too much into wardrobes is something most people are guilty of, making it difficult to find the perfect outfit for the day ahead but it can also mean crumpled clothes and out of shape accessories."
Three simple tips for the keeping a clutter free wardrobe are:
The 12-month rule – if you've not worn something in the last 12 months then get rid of it
Seasonality – Rotate a summer wardrobe and winter wardrobe, putting away anything that won't be worn until temperatures rise or fall.
A place for everything – there are literally hundreds of storage solutions and ways to configure wardrobe internals, but create a wish list of what you want to be able to find easily during your daily routine and prioritise your most worn items.
Our team are on hand to help you make the most of your space – book your free home design visit now.