Dining room makeover featuring our stunningly stylish fitted furniture
Dining room makeover featuring our stunningly stylish fitted furniture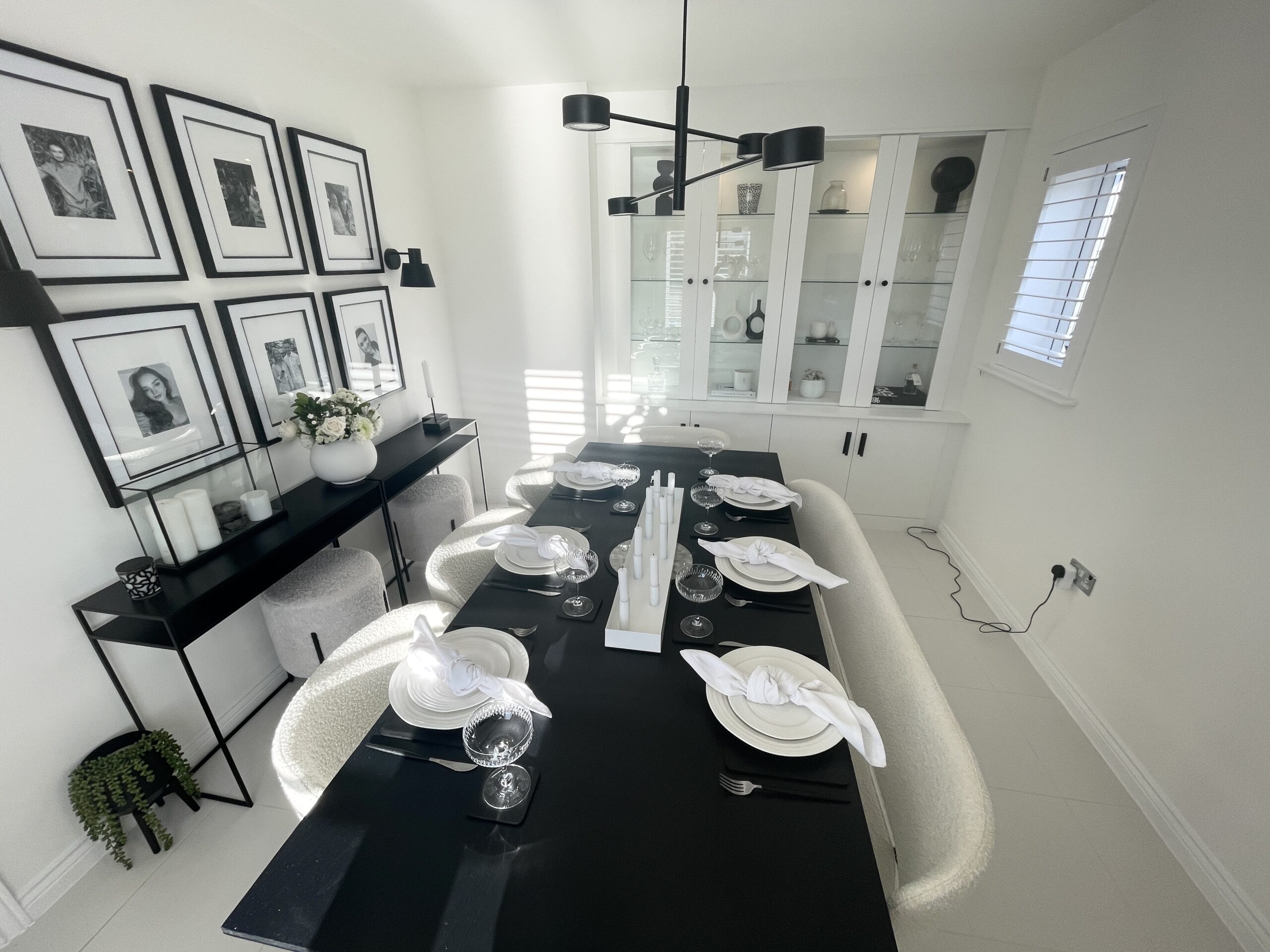 We helped homes and interiors Instagramer @CarlysHomeIdeas, rejuvenate her dining room with a beautiful fitted furniture display unit that oozes style and practicality.
Carly Jones, otherwise known as @CarlysHomeIdeas, is renowned for her beautiful modern home, with monochrome colour scheme, considered detailing and luxe finishes.
We had the great pleasure of partnering with Carly for her dining room makeover, providing our home design service, quality furniture and expert fitting … and utilising every inch of space in an alcove that was currently not being used to its full potential.
Carly's journey started when My Fitted Bedroom designer Zeeshan Haq visited her home to help bring her vision to life. The room's awkward alcove was screaming out for a fitted cabinet that would help to give Carly the extra storage that she craved, whilst still fitting her minimalist and considered aesthetic.
After spending time talking to Carly about how exacting requirements for the furniture and her specific storage needs, Zeeshan designed a beautiful modern unit that would fit seamlessly into Carly's stylish home.
A glass fronted display cabinet with crisp lines would give Carly space to add her designer flair with a carefully curated display of glasses, vases and books. Setting the top section of the cabinet back slightly created a shelf which could be used as extra display space, whilst the enclosed doors of the bottom section of the cabinet meant that anything stored away would not impact on the overall design aesthetic of the room – keeping the look sleek and uncluttered.
We used our Cassia white door design to achieve the clean lines that Carly wanted. (For a similar look we also have the Inspire design. Both door types are available in 33 colour options!)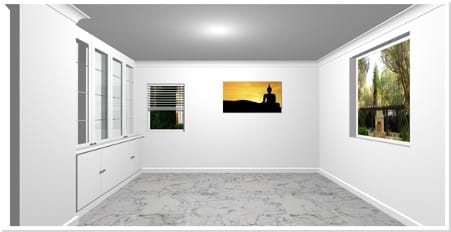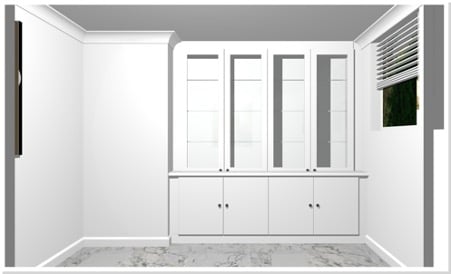 And "ta da" … here's Carly's finished room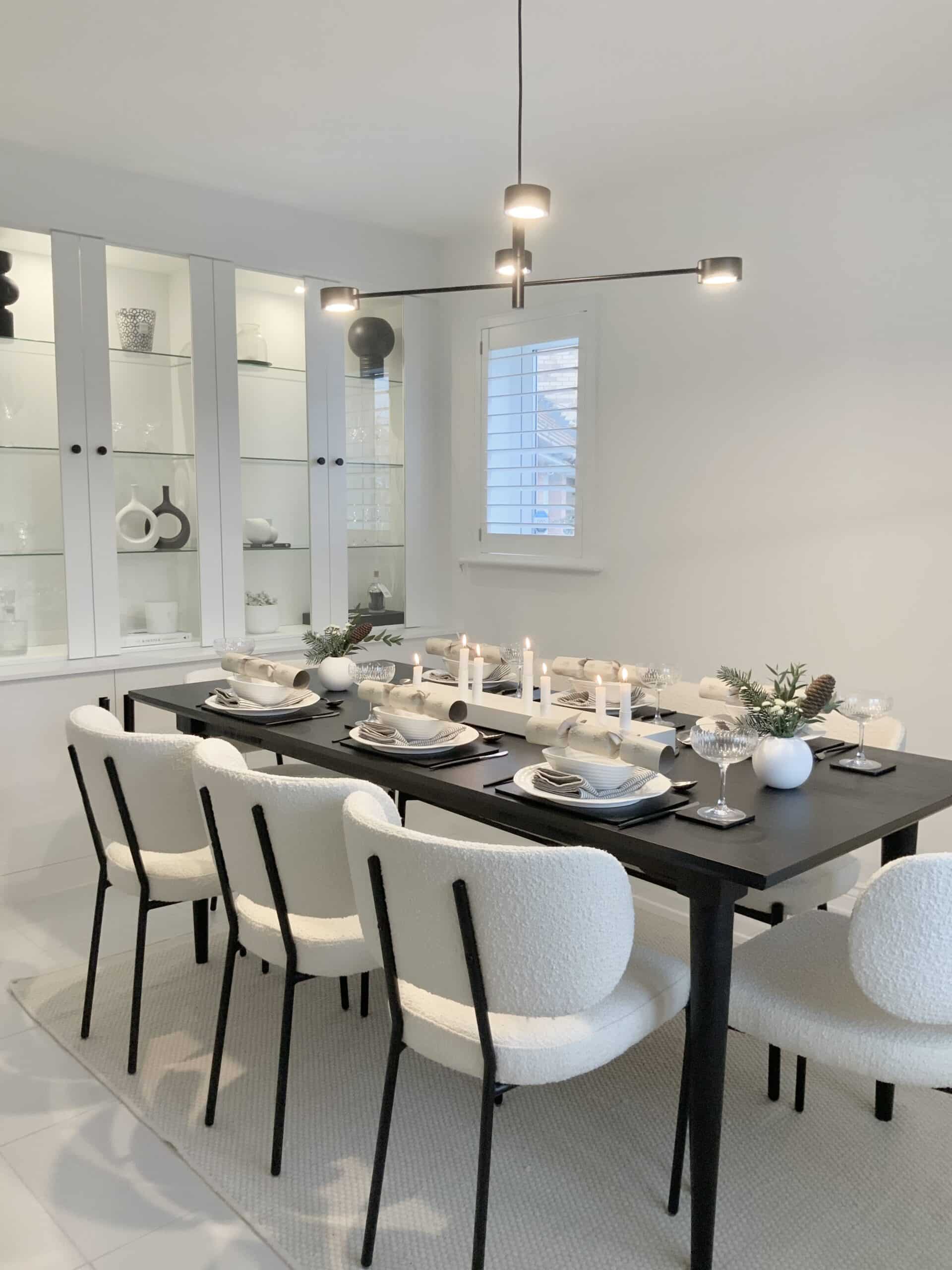 We're sure that you agree, the end result is absolutely stunning! This fabulous grown up space is transformed with the addition of the cabinet which perfectly complements the overall design scheme and offers versatile storage which is uber modern and slick. Oh and we look the monochrome styling and those chairs!!!
For more home inspiration and to follow Carly's renovation journey visit www.instagram.com/carlyshomeideas
If you have are looking to build added storage into your home – whether that be in a bedroom or under the stairs or utility room  – please get in touch and one of our design specialists would be more than happy to visit your home and help bring your vision to life.