Insta-worthy fitted wardrobes for this interiors influencer who loves pink
Insta-worthy fitted wardrobes for this interiors influencer who loves pink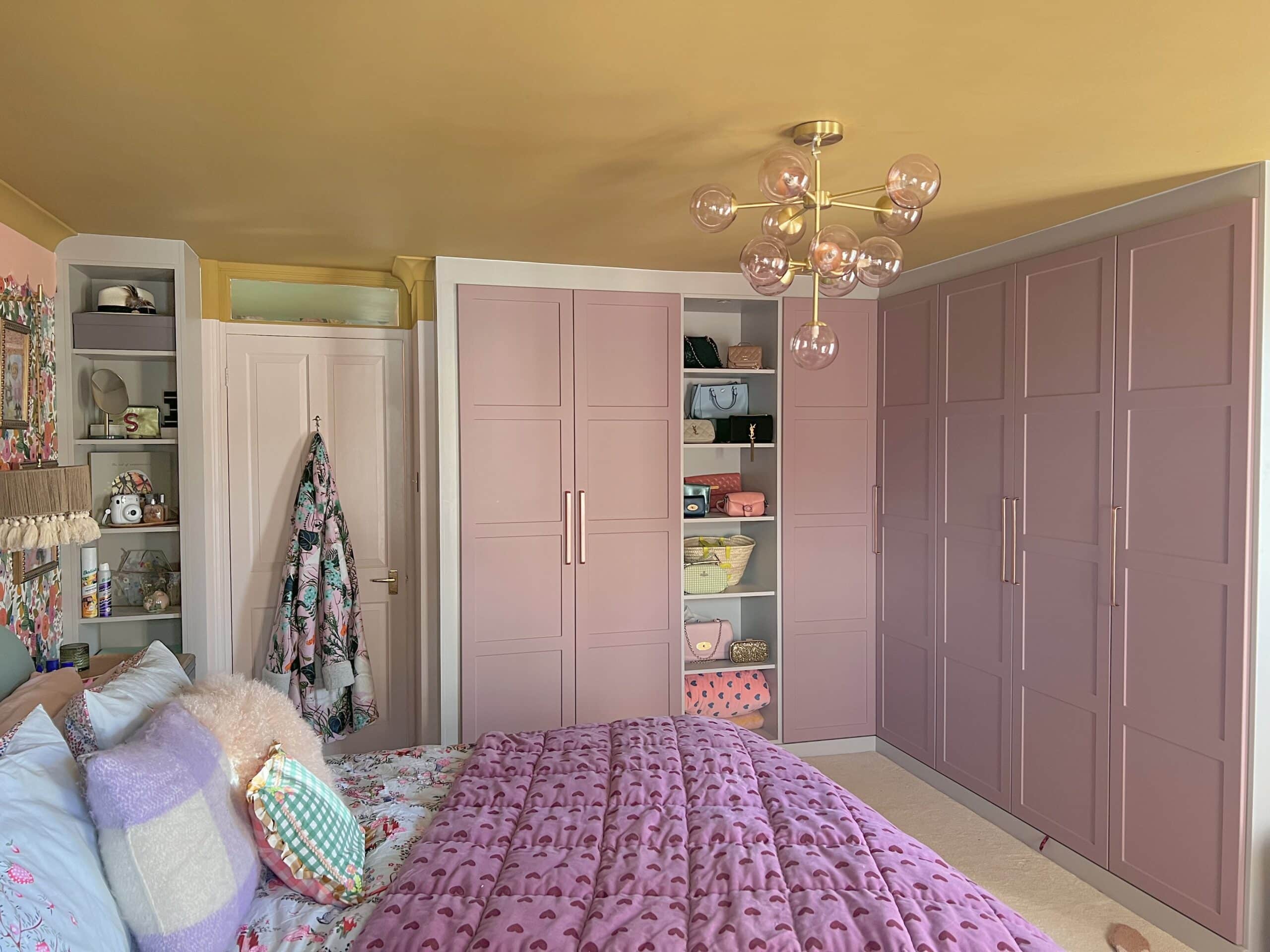 You'd be hard-pressed to find someone who loves a pastel colour palette quite as much as interiors influencer Sophia Ferrari-Wills (aka @thiscolourfulnest) whose home is a joyful haven in ice cream shades and pops of pattern. Whilst there's not much of Sophia's home which hasn't been given her unmistakeable design treatment, there was one corner of her bedroom which hadn't made it to her Instagram-grid – until we came along!
Sophia's home was hiding a bit of a secret – her wardrobe needed an insta-worthy upgrade and we were happy to help give this forgotten corner a space in the spotlight! Read on for the details …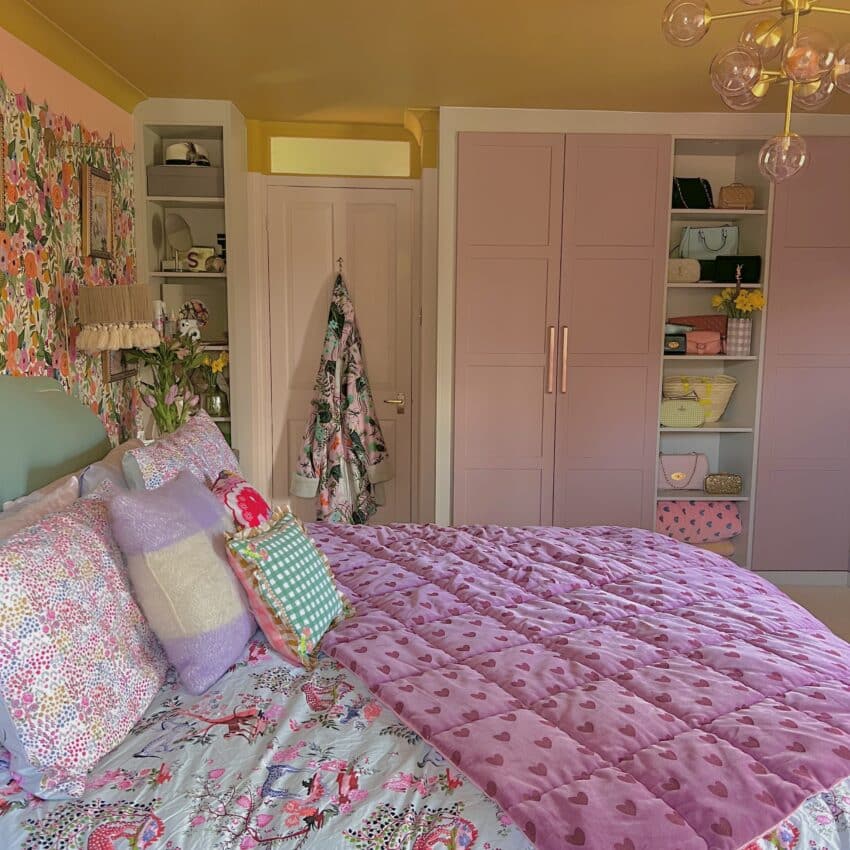 A master bedroom in need of a new lease of life …
Sophia's home is utterly gorgeous – you can't help but feel uplifted by the use of colour and pattern throughout and has amassed over 400,000 Instagram followers showcasing  her 'pastel maximalism' design style. But every Insta-interior design queen has a secret and when Sophia got in touch for a fitted wardrobe to help her make the very best use of space in her master bedroom we knew exactly which colour she would choose. After all our Elise doors in Blush colourway and Sophia were a match made in heaven and we couldn't wait to see the finished result.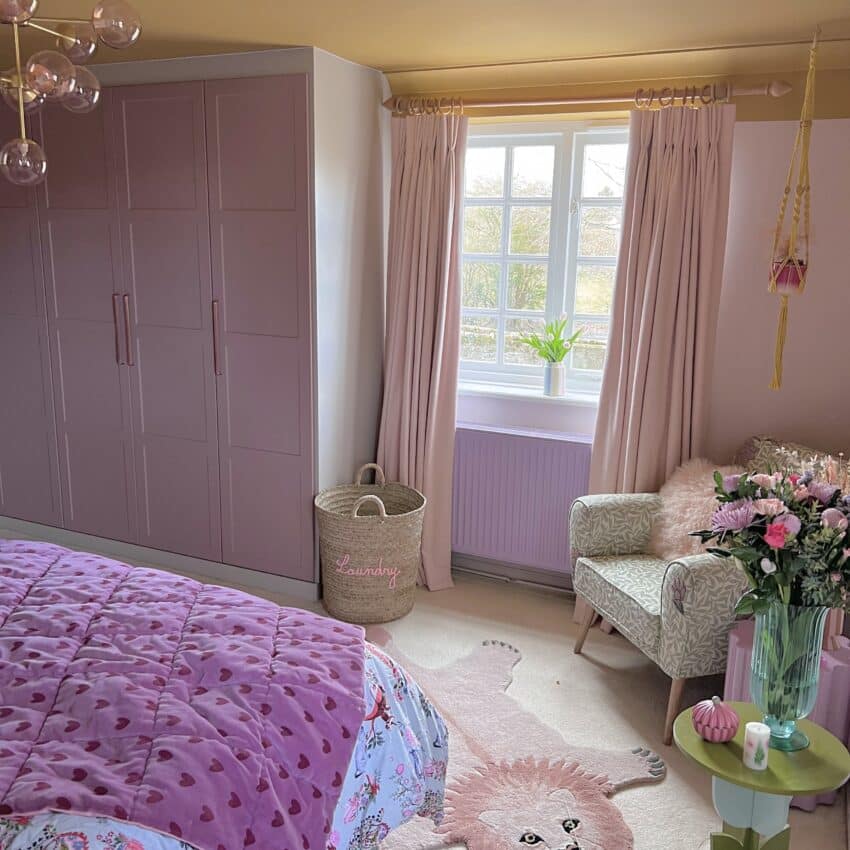 The design details …
During a home design visit our designer worked closely with Sophia to showcase how the space could be used to the best effect. An L shaped wardrobe design created much needed extra storage space, whilst a shelving unit was added to utilise a small unused area next to the door to give a beautiful home to her handbags. The CAD process meant that Sophia could experiment with colour and even though she fell in love with a dramatic combination of Blush wardrobes and Classic Blue surround, she opted for a more neutral exterior in Cashmere which really put the Blush centre stage.
Listening to her exacting needs, our designer then created the optimum intelligent storage solution for inside the fitted furniture. Hanging rails, shoe storage, drawers and shelves were all incorporated into the final design.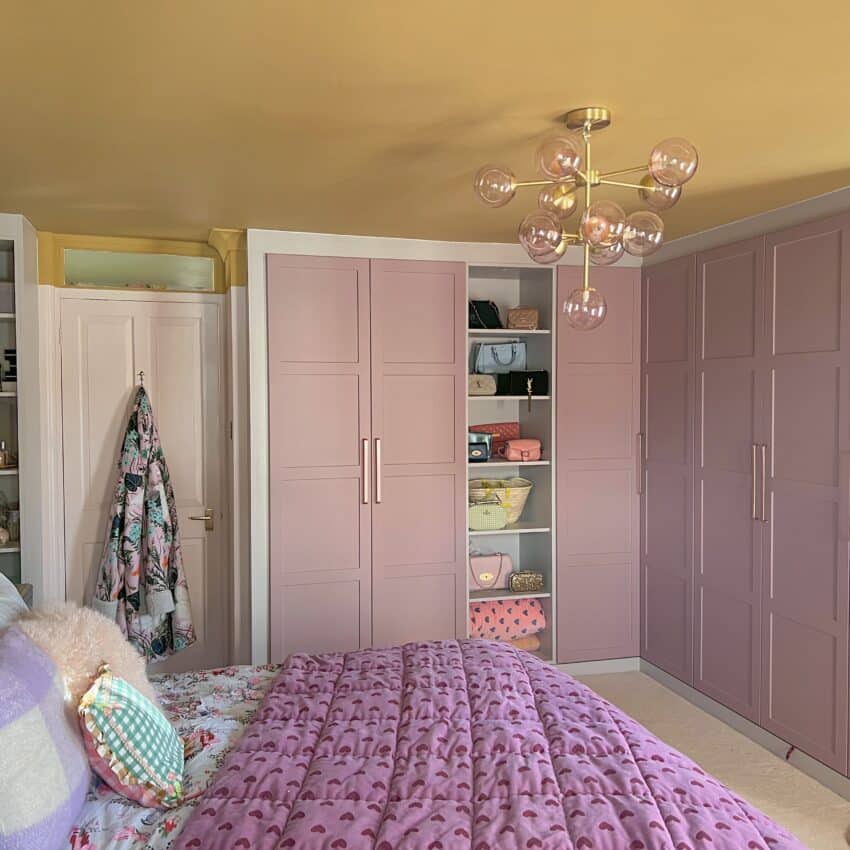 An amazing transformation …
As you can see, the finished result is pretty special. Fitting seamlessly into Sophia's existing bedroom design scheme, the built-in bedroom wardrobes provide the perfect finishing touch to the stunning space. There is ample room for all of Sophia's clothes, bags and shoes – with shelving that gives her the option to curate her bags and other finishing touches in her unique style – she can change and curate the shelves as she wishes.
Whether your design style is bold and maximalist, modern and minimalist or traditional – we have a fitted wardrobe for you. Book a free home design visit and you could transform your bedroom storage, just like Sophia.