Cleaning tips for a better bedroom
Cleaning tips for a better bedroom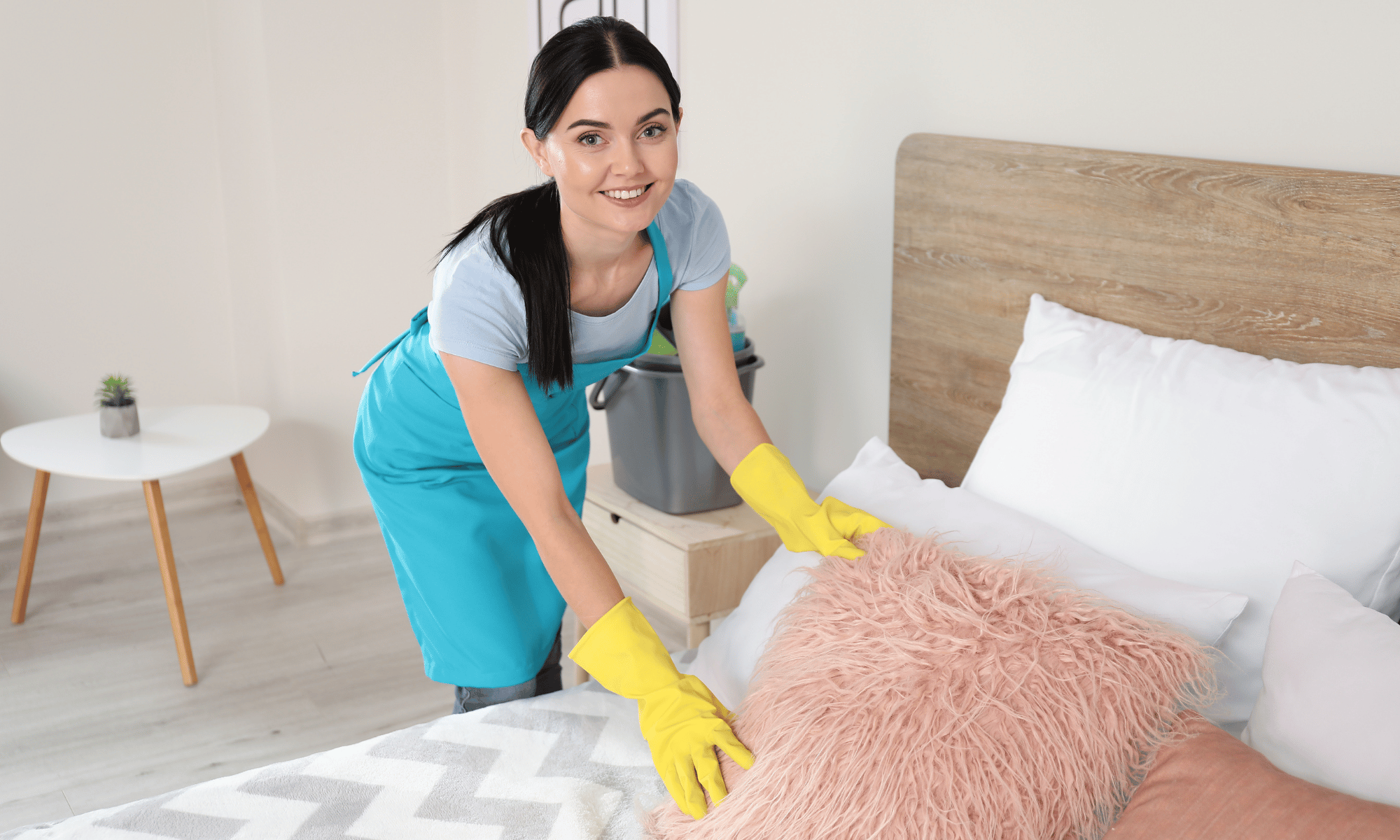 The bedroom is one of the most important rooms in the house, which means it is vital to keep it fresh, serene and clean for contented living and a restful night's sleep.
Now is the perfect time to get organised and breathe new life into the home, creating a well organised, tidy, clean bedroom space.
A thorough clean can do wonders for injecting a feeling of optimism, calm and control into your life – here's our top tips for refreshing your bedroom.
Get everything ready before you start to clean – tool up with the following items before the 'Big Clean' commences:
Ladder (free standing is best so as not to damage wallpaper when leaning it against the wall)
Hoover with brush attachment handy
Ostrich feather duster – the tiny barbules on the ostrich feathers act as fingers to collect dust without leaving static electricity behind
Micro fibre cloth – lint free and gentle, it is claimed that micro fibre cloths are up to four times more effective than normal cloths at picking up dirt
Yellow duster and wood polish
Plastic/cloth sheet – if you have carpet or a large rug, line the floor with a large sheet (preferably plastic), in case of drips or spillages
Soft brush
Bucket of clean water
Bucket of water with mild detergent, preferably eco-friendly with no chemical nasties
Plain, clean sponge
White wine vinegar spray
Window squeegee
Small towel
Favourite essential oils
Dust first
Start dusting up high, using you feather duster to grab hard to reach dust from crevices and corners of the room. Keep the window open to circulate air throughout the room when cleaning.
Be methodical
Start at the top and work your way down, so you're not having to go back over already cleaned areas.
Wash your bedding AND duvet / pillows at 60oc
Dust mites are one of the biggest bed nasties; they can easily result in irritated skin and eyes and for those with allergies and for anyone with asthma, dust mites can make symptoms worse. Washing your duvet and pillows at 60oc helps cleanse away any accumulated dirt, moisture and dust and kills dust mites.
Dust over wooden surfaces with wood polish
Wooden surfaces, especially those that are untreated, will benefit from a specialist wood polish to keep them in optimum condition.
Clean all windows and mirrored surfaces with White Vinegar Spray
A favourite tip from cleaning whizz extraordinaire, Mrs. Hinch, White Vinegar is a natural alternative to the chemical window and glass cleaners, and is really effective at removing grease, water marks and dirt.
Gently does it
When cleaning surfaces such as dressing tables, window sills, shelves etc, remove any accessories and use a sponge with warm, soapy water to gently lift dirt and stains. Wipe over accessories such as artificial plants, ornaments and pictures with a damp microfibre cloth, and don't forget to clean the tops of any hanging pictures or wall art.
Hooray for the hoover
Finish off with a good hoover of all floor surfaces, being sure to reach under furniture (where possible) too. This will pick up all the dirt and dust that has fell from the tops of furniture and curtains. Use the brush attachment to go over curtains also.
Scent-sationalise your space
Aroma is an incredibly powerful thing. Finish your clean with dabbing your favourite essential oils on the corners of your clean bedding, curtains and rugs. Alternatively, apply some to tumble dryer sheets and insert into scatter cushions or stick behind radiators for a subtle scent throughout the room. Popular scents for the bedroom are ones that instil calm and tranquillity, such as camomile, lavender, sandalwood and ylang ylang.
Fitted bedrooms make the most of every inch of space available in a bedroom, making it easier to organise and store belongings, but they are also easier to maintain and keep clean than stand-alone furniture. Utilising floor to ceiling height as well as maximising the wall space available means there are no gaps or nooks which can store dust and dirt. They are also perfect at maximising the storage capacity of any room, keeping it clear of clutter for a calmer mind and greater wellbeing.